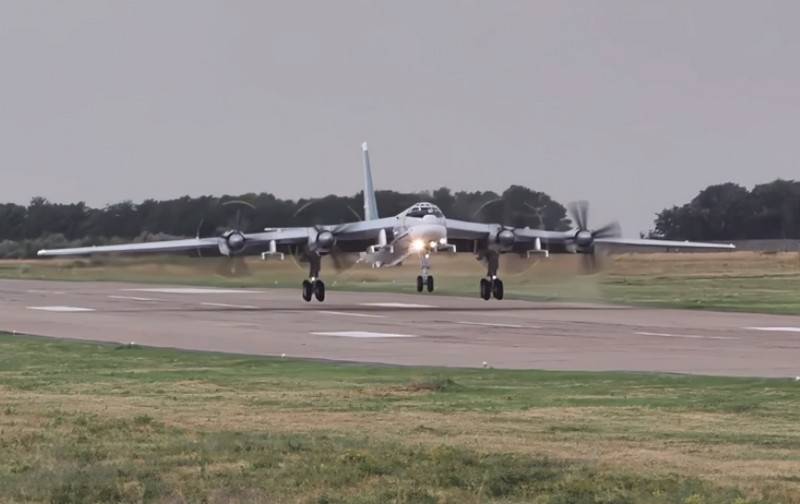 Flight tests of the deeply modernized Tu-95MSM missile carrier began, and the prototype aircraft made its maiden flight. This was reported by the press service of the United Aircraft Corporation (UAC).
According to the report, the beginning of flight tests of the Tu-95MSM was announced to Defense Minister Sergei Shoigu by UAC General Director Yuri Slyusar before the opening of the Army-2020 military-technical forum.
While visiting the exhibition of the latest
aviation
technicians at the Kubinka airfield Yuri Slyusar told Sergei Shoigu about the beginning of flight tests of the first experienced deeply modernized strategic missile carrier Tu-95MSM
- Said the press service.
It is reported that the first flight of the Tu-95MSM made the day before, taking off from the airfield TANTK them. G.M.Beriev in Taganrog. The plane was piloted by the crew under the direction of test pilot Andrey Voropaev. The flight took place in normal mode at an altitude of 9000 m, lasted 2 hours 33 minutes, systems and equipment worked without any comments.
The completion of work on the creation of a deeply modernized strategic missile carrier Tu-95MSM was reported in March this year. The message said that the Tupolev company, together with the Beriev Aircraft Company, completed work on the creation of the first deeply modernized Tu-95MSM and began testing the updated systems.
Later it became known that the plane will make its first flight by the end of August this year.
As previously reported, as part of the modernization of the Tu-95MSM, it received a new radar, a new information display system, an upgraded defense complex, upgraded NK-12MPM turboprop engines with the installation of new AV-60T propellers.