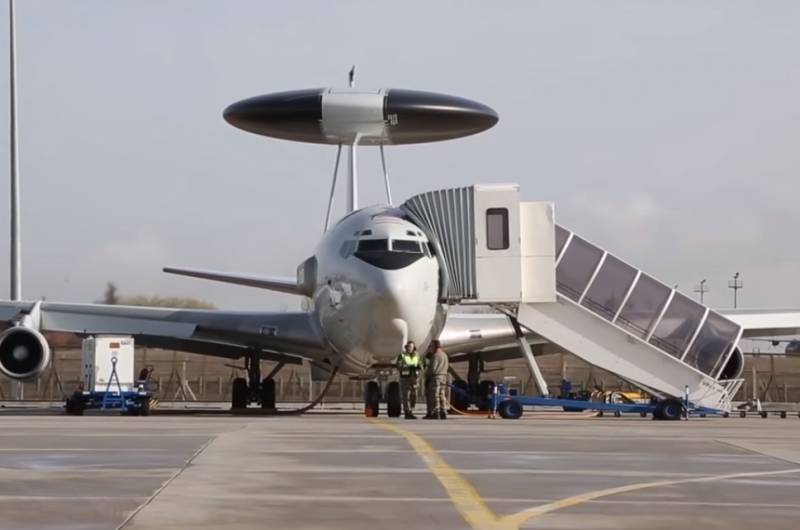 NATO AWACS reconnaissance and radar warning aircraft will be stationed in Krakow to protect joint exercises of the American and Polish military
aviation
under the code name "Aviation Detachment Rotation 20-4". In accordance with a statement issued by the press service of the North Atlantic Alliance, a NATO AWACS aircraft was sent to Krakow on August 21 and will remain there for the next seven days, taking part in the exercises.
This is reported by the Polish media.
The plane arriving in Krakow will interact with Soviet and American-made fighters of the Polish Air Force, as well as with the Polish ground control center. It is planned to pay special attention to testing the interaction of the AWACS aircraft with Soviet-made aircraft. Of the Soviet-made combat aircraft in the Polish Air Force - the Su-22M (planned for decommissioning in 2016, but then it was decided to extend the operation) and the MiG-29.
The AN / APY-2 radar installed on AWACS aircraft allows observing airspace covering an area of ​​10 thousand square kilometers during flight at an altitude of 312 kilometers.
The NATO press service emphasizes that the participation of the aircraft in the exercises is part of a long-planned program, which includes flights over the territories of the countries of the North Atlantic Alliance. This measure, as stated in the press service of the North Atlantic military bloc, was introduced after the annexation of Crimea to the Russian Federation in 2014. One of the goals of the program is to contain "possible Russian aggression against NATO members."