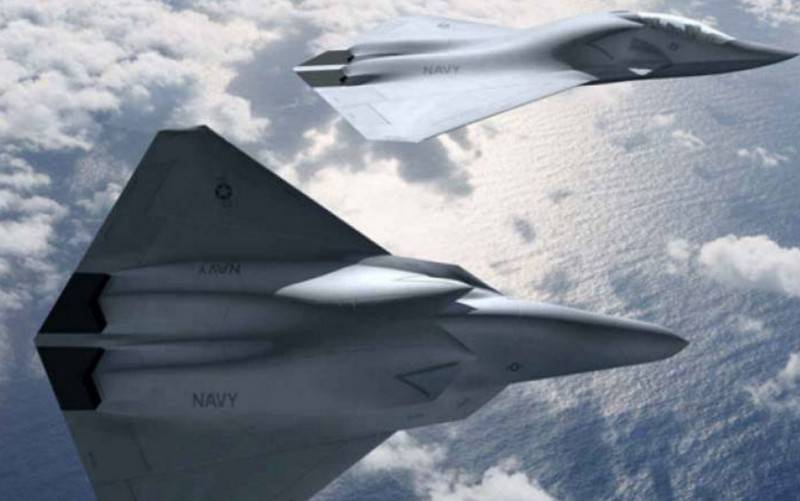 The US Navy ordered the development of a new carrier-based aircraft
aviation
, which in the future will replace the Boeing F / A-18E / F Super Hornet. According to the American media, the new aircraft will be developed under the NGAD (Next Generation Air Dominance) program already launched by the US Navy.
It is stated that the program provides for the creation of a completely new aircraft, and not an improvement in existing models, despite the fact that for
fleet
it is proposed to combine the designs of the fifth generation fighter F-35 and F / A-18 with modern technologies to create future aircraft. At the same time, it is specified that the design will take into account the capabilities of the F-35C, but in the new aircraft all the shortcomings inherent in fifth generation fighters must be eliminated.
The US Navy plans that the new aircraft will significantly expand the coverage of aircraft carriers. It is already known that the new vehicle must have a combat radius of at least 1000 nautical miles. It is possible that the aircraft will be produced in single and double versions, although an unmanned version is also possible. Other details have not yet been reported.
The fleet command plans to take the aircraft into service in the early 2030s, as carrier-based F / A ‑ 18E / F Super Hornets will begin to withdraw from the Navy just at this time.
The program for creating a new carrier-based fighter in the United States has been announced for a long time. In December last year, the US Congress limited the allocation of funds for a promising aircraft. However, the US Navy hopes that as part of the reduction in the allocated funds for the F / A-18E / F Super Hornet program, the money saved will be redirected to the new aircraft.