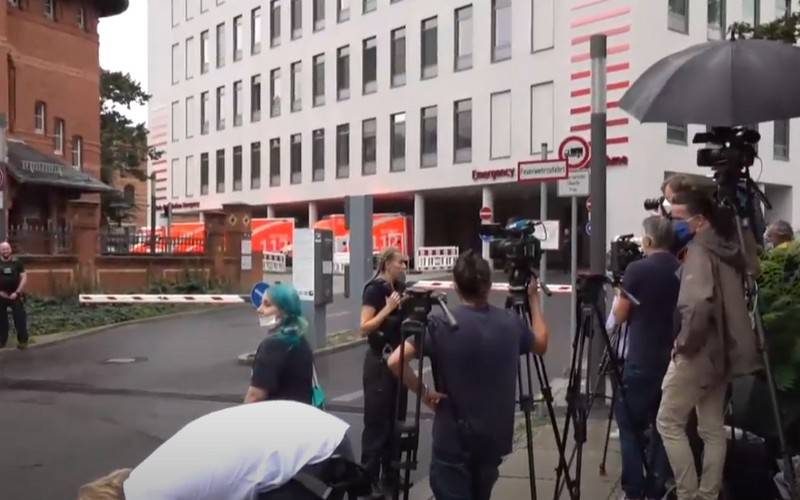 The founder of the Anti-Corruption Foundation and opposition politician Alexei Navalny was nevertheless transported to Berlin. The plane with Navalny landed at the Berlin airport at 08:47 (09:47 Moscow time). Press secretary Kira Yarmysh announced this.
According to German media reports, Navalny was transported to Berlin on a Bombardier Challenger 604 of the German charter airline FAI rent-a-jet. The politician will be treated by the doctors of the Charite hospital. The oppositionist was taken to a medical facility in an ambulance accompanied by three ambulances and police cars.
As a high-ranking politician
an enthusiastic supporter of Navalny wrote in the comments.
Doctors assess the patient's condition as stable, said the head of the Cinema for Peace Foundation, Yaka Bizil, who organized the flight. On the eve, in Omsk, they were allowed to take Navalny to Germany under the responsibility of his wife.
The Navalny family will make a press statement in the coming days after receiving additional information about his health, the Cinema for Peace Foundation said.
According to Navalny's supporters, he was poisoned with something mixed in tea at the Tomsk airport. However, according to the conclusion of the Omsk doctors, Navalny was not poisoned, which is confirmed by the data of the chemical and toxicological examination. As the main version, doctors called metabolic disorders due to a sharp drop in blood sugar levels, with which Navalny's attending physician Anastasia Vasilyeva did not agree.
In the foreign media, rumors are circulating with might and main that Putin personally ordered the poisoning of Navalny, as the opposition politician caused too much concern for the Kremlin. An example is given
история
with the poisoning in London of "Russian spy" Alexander Litvinenko. According to some publications, Putin acted through "agents of the Russian security agency FSB" involved in numerous poisonings and murders of people objectionable to the Kremlin.
(...) it is still premature to remove suspicions from Putin. He has led a system for 20 years where opposition politicians, journalists and human rights defenders are attacked and killed, and the perpetrators often go unpunished.
- said Seva Gunitsky, assistant professor of political science at the University of Toronto.
Ultimately, Putin is the self-proclaimed ruler of a country where opposition figures are regularly killed and hounded, where the rule of law does not exist. Hence, Putin bears full responsibility
- wrote Sergei Radchenko, professor of international relations at Cardiff University.