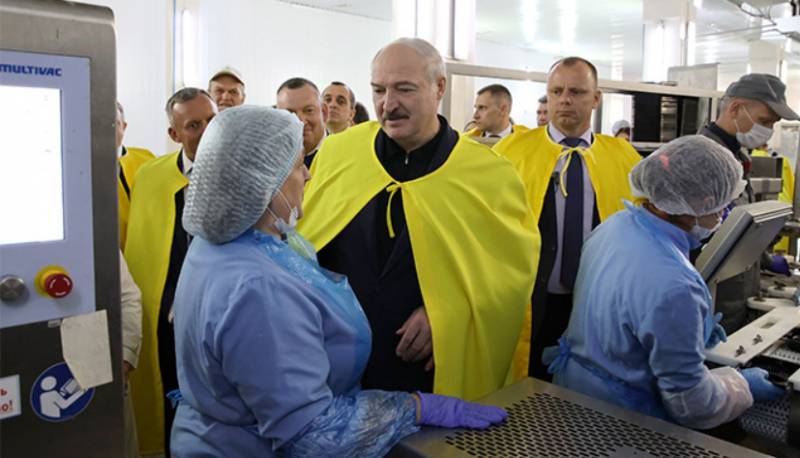 Poland is reacting to the statement made by the President of Belarus Alexander Lukashenko the day before. Let us remind you that Lukashenko announced the creation of a special center near Warsaw, from where the coordination of protests and riots in Belarus is carried out. At the same time, the President of the Republic of Belarus once again announced that "from there (from Poland) the clank of caterpillars
tanks
NATO".
Large Polish media published these statements of Alexander Lukashenko, as well as those of his words in which he informs about the West's desire to use Belarus in order to close the "cordon sanitaire" around Russia - in the western direction: from the Baltic to the Black Sea (Estonia, Latvia, Lithuania , Belarus, Ukraine).
In response to this, the Polish media once again announced that the official Warsaw does not recognize Lukashenka's legitimacy as the Belarusian president. From Wirtualna Polska:
If Lukashenka had seen the scale of the protests with his own eyes, or if he at least believed in what he was watching on Telegram, he would not have made such vulgar mistakes as organizing an alternative "popular" rally, to which he took people from state-owned enterprises by bus.
At the same time, attention is drawn to the fact that in Poland no one even tried to refute the very words of Lukashenka about coordinating the protest from the "center near Warsaw". The media are trying to pounce on the President of the Republic of Belarus, using in fact only one message: "Lukashenko is illegitimate."
At the same time, the comments of Polish readers about Lukashenko's statements are mostly negative. The President of Belarus is accused of "usurping power" and now he is trying to "solve his problems by intimidating the people with the Western enemy."
Against this background, the resignation of Foreign Minister Jacek Czaputovich took place in Poland. In this regard, in Poland they say that Warsaw's foreign policy activity in recent years has left much to be desired. It is noted that in fact the only vector of foreign policy relations were relations with the United States. At the same time, relations with partners in the European Union have seriously deteriorated. Poland expects "better work on the foreign policy front" from the new Foreign Minister in Poland.