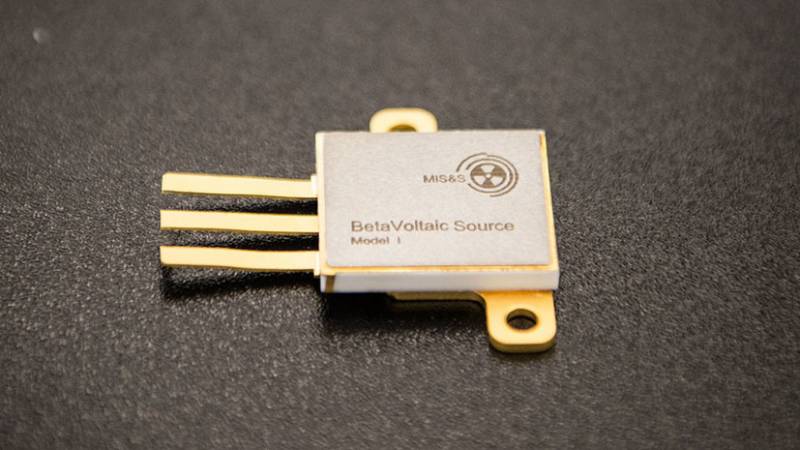 Photo by NUST MISIS
Russian scientists have created a new compact energy device. We are talking about the work of NUST MISIS employees, which was carried out in the field of "peaceful atom".
The journal Applied Radiation and Isotopes describes the results of the work of the MISIS research team. The result was the creation of a compact battery, which is simply called "atomic". This small device generates an electric current during radioactive decay - a kind of microreactor. The "atomic battery" consists of two main parts - semiconductor (it is in the process of energy conversion) and radioactive (emitter based on nickel isotope).
Such a battery allows power supply of microelectronics. The dimensions of the innovative battery are comparable to foreign counterparts, while it is about half the price and an order of magnitude more efficient.
A battery that generates electricity based on radioactive decay is characterized in that the arrangement of the "atomic" part is such that it prevents the loss of power, which is usually caused by the so-called reverse current.
One of the authors of the development is Sergei Legotin, Associate Professor of the Department of Semiconductor Electronics and Semiconductor Physics of the aforementioned university.
He is quoted by RT:
The design makes it possible to increase by an order of magnitude the efficiency of converting the energy released during the decay of the beta radiation source into electricity, which will reduce the source cost of the source by about 50 percent due to the rational use of an expensive radioisotope.
Today, "atomic batteries" are being developed in different countries of the world, but their use has not reached the mass level. First of all, the high cost of such elements plays a role. At the same time, it is already clear that this situation may change in the near future. An impetus for the development of the direction of using this kind of energy elements may well be given by the development of domestic scientists.
Earlier, the MISIS presented a developed composite material that can be actively used in medicine - in particular, for the restoration of bone defects in the skull.