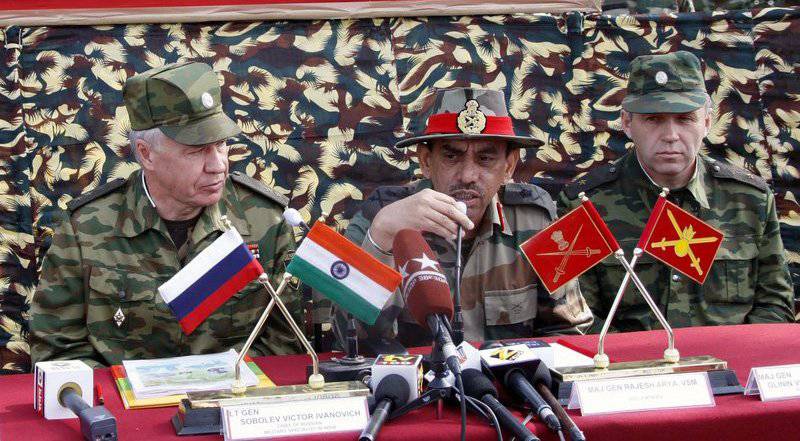 On Tuesday, on the territory of the Eastern Military District of Russia, the first joint exercises Indra-2012 with the Indian armed forces will begin. Foreign participants have already arrived at the site, the press service of the TSB reports.
"Some of the servicemen arrived by military transport aircraft
aviation
Indian Armed Forces, part - civil aviation. From the airport of Ulan-Ude, they went to a training complex located near the city of Kyakhta in Buryatia, where they will be accommodated in a field camp, "the release said.
International exercises in the Russian Air Force last until 17 in August; their active part will be on the 13-16 of the month.
Combined Russian-Indian troops will conduct reconnaissance, blocking and destruction of "terrorist groups."
As previously reported, 250 servicemen from each side, around 50 units of various vehicles, will take part in the exercises.
The geostrategic value of the upcoming "However" exercises was commented by Konstantin Sivkov, Doctor of Military Sciences, Vice-President of the Academy of Geopolitical Problems:
- Any international exercises pursue a clear goal - working out joint actions of the armed forces of different countries. Such exercises, as a rule, are conducted only with friendly armies, and are aimed at creating favorable conditions for joint actions in the case of joint military operations.
India is in the BRICS and the SCO, so we have the closest economic ties with India. In addition, we have with her dense military-technical cooperation, this is evidenced by the fact that most of the military equipment of India is represented by Russian and Soviet samples.
India is an extremely important partner for us from a geostrategic point of view, since it, having access to the Indian Ocean, the enormous length of the coastline, and significant naval exits, can influence the development of the situation in the Indian Ocean. Russia, in turn, now has a need to deploy groups in remote areas of the seas and oceans. In particular, the commander in chief of the naval
fleet
He said that the former Soviet base in Kamrani will be restored, and our fleet should also be represented in the Indian and Pacific Oceans.
To have friendly relations with India, to work together with their armed forces - all this will allow us to be based on Indian bases. All this spectrum is very important to us in order to promote our geopolitical influence, support our friends and establish not only economic, but also military-strategic ties with India.