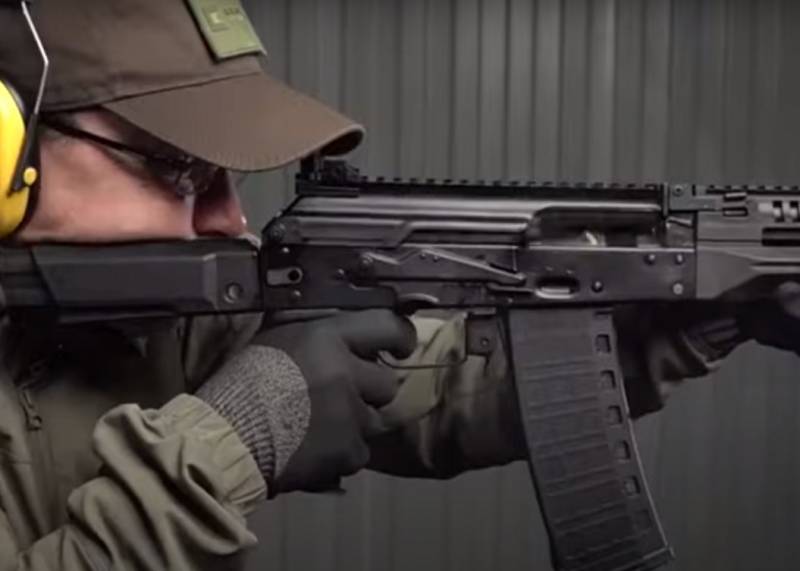 Concern Kalashnikov has developed a new AK-19 assault rifle. It is going to be presented at the Army-2020 forum, which will be held on August 23-29, 2020.
So far, the AK-19 has the status of an experimental machine gun. It is based on the AK-12 assault rifle, but uses a 5,56 mm NATO caliber. Recall that the AK-12 assault rifle was developed within the framework of the Ratnik program for the future equipment of the Russian army. At the end of 2018, he was put into service. However, the AK-12 has a 5,45 mm caliber, not 5,56 mm like the AK-19.
Among other features of the AK-19, the presence of a lightweight telescopic stock, a new rear sight, a slotted flash suppressor with the ability to quickly mount a silencer is distinguished. The barrel length of the new assault rifle is 415 mm, weight is 3,3 kilograms.
By the way, the AK-19 is not the only Russian
weapon
, adapted for the cartridge used by the armies of the countries of the North Atlantic Alliance. Thus, the RPK-16 light machine gun, the AK-12K and AK-15K experimental assault rifles, which are shortened versions of the AK-12 and AK-15, respectively, are adapted for the NATO patron.
So far, there is little information about the AK-19. In the expert community and among people interested in weapons topics, disputes have already begun about the future of the new machine. In particular, people are trying to answer the question of why the Russian army needed a weapon specially adapted for the patronage of the NATO standard. Of course, the most "patriotic" and widespread version is that trophy cartridges do not disappear in the event of a conflict with a potential enemy.
But a more realistic version looks like a possible attempt by Kalashnikov to strengthen its position in the global arms market, especially in Eastern Europe. After all, AKs are still in service with many armies of states that were once part of the Warsaw Pact Organization. For the Romanian, Hungarian, Bulgarian and other Eastern European military, the Kalashnikov assault rifle is a familiar weapon, and if it is also adapted for firing NATO standard cartridges, it is just wonderful. Work for competitiveness.
In any case, while we can only follow
the news
in the world of domestic small arms and wait for the "Army 2020" forum, where representatives of the concern will talk in more detail about the new machine.