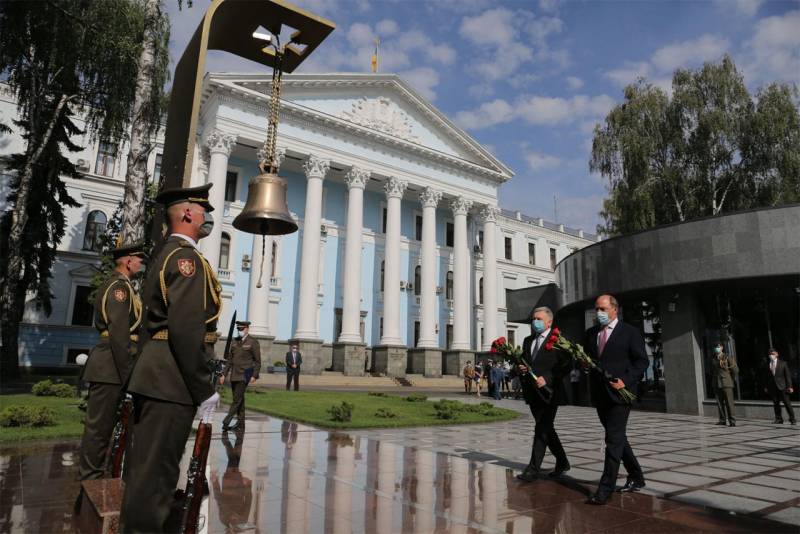 A delegation from the British Ministry of Defense headed by Minister Ben Wallace has arrived in Ukraine. As noted by the British side, the visit is associated "with deepening contacts between the United Kingdom and Ukraine in the security sphere, including in the format of Ukraine's partnership with NATO."
It is stated that the purpose of the visit is "to demonstrate military-political support for Ukraine, as well as to study aspects of the implementation of the Ukrainian-British agreements in the defense industry."
Earlier in the media it was reported that Ukraine could be supplied with weapons that were already in use by the British army - on the same principle as the United States sends Ukraine its decommissioned boats.
Ben Wallace and his Ukrainian colleague Andrey Taran took part in the ceremony of laying flowers at the memorial to the Ukrainian servicemen who died during the military operation in Donbass - to the stele with a bell.
It is noteworthy that for some time now foreign delegations in Ukraine have been laying flowers and wreaths either at this monument or at the memorial to the victims of the so-called "Holodomor". The laying of wreaths and flowers at the monuments to the soldiers who liberated the Ukrainian land from Nazism during the Great Patriotic War (WWII) is usually not provided. This fact speaks volumes: it is more important for NATO partners to focus on ATO (OOS) than on the Great Patriotic War. In turn, this once again emphasizes that the West is interested in the civil war in Ukraine - near the borders of Russia - not ending. As confirmation: discussion of arms supplies for the Ukrainian army.