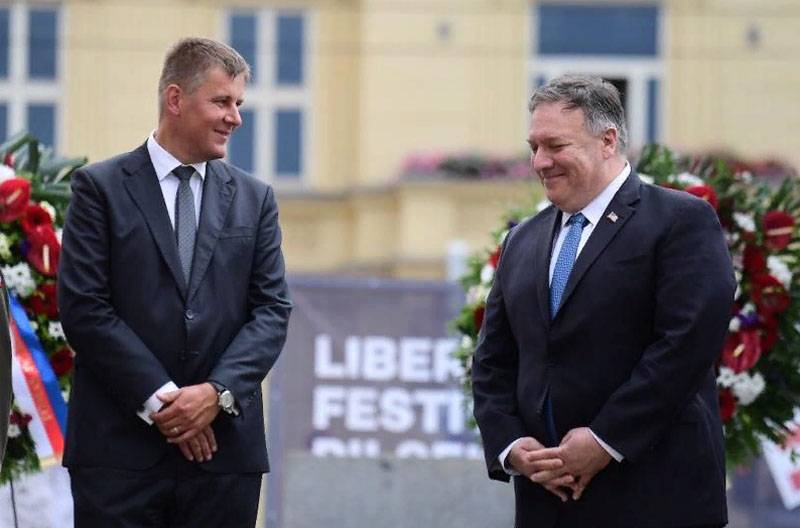 Czech Minister and US Secretary of State
Eastern European politicians continue to demonstrate an open interest in pumping up protest actions in the Republic of Belarus. After a whole series of statements, which are open interference in the internal affairs of Belarus, made from Warsaw and Vilnius, the turn came to Prague.
Czech Foreign Minister Tomasz Petřicek, who recently held consultations with US Secretary of State Mike Pompeo, said that "the Czechs are ready to help Belarusians."
In an interview with Aktuálně.cz, the Czech minister said that "the Czech Republic is ready to provide asylum and grants to protesting against the regime of the Belarusian democrats." According to Petříček, official Prague can provide this kind of assistance to "independent media and non-profit organizations."
Today in the Czech Republic a meeting of the State Security Council is being held, and Czech journalists asked the Foreign Minister what "answer" the Czech Republic could give to Minsk within the framework of the "all-European".
Petřicek:
We would like to participate in the formation of sanctions against those who were involved in the violence against demonstrators in Belarus. We also want to contribute to broader support for civil society.
Petříček was asked:
It's all?
The further statement by the Minister of Foreign Affairs of the Czech Republic attracts special attention and indicates a clear interest in interfering in the internal affairs of Belarus:
We do not hold and do not want to organize demonstrations, but we want to help the Belarusian public to say what Belarus wants in the future.