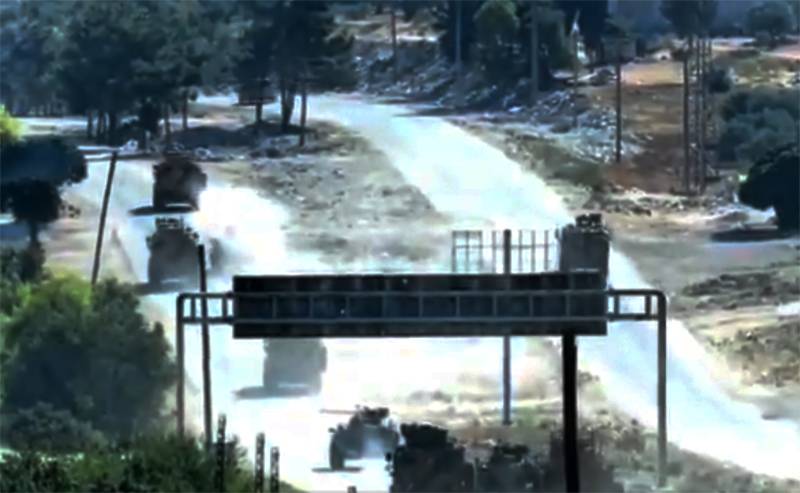 In Syria, another explosion occurred on the way of a military patrol. According to some reports, an explosive device set by unknown persons detonated on the road along which a joint Russian-Turkish patrol was carrying out.
At the moment, it is noted that an unidentified explosive device detonated on the section of the Ain al-Habr - Trumba highway in the Idlib province. This is a road that connects the largest city in the Syrian Arab Republic of Aleppo with the Mediterranean coast and ports of Latakia.
It is known that the crews of three BTR-82A were involved in patrolling from the Russian side. Patrol control was carried out using a helicopter. No activity of the militants immediately before the passage of the column was noticed. This suggests that the militants knew very well the parameters of the route, including the time of passage of the convoy of the joint patrol.
There is also another version. About her below.
The Russian command says that there are no casualties or injuries among the servicemen of the Russian contingent.
The explosion took place under a Turkish armored vehicle. At the moment, no data has been received on the state of the Turkish military who were in the armored car.
The footage from the scene is shown. It is noteworthy that considerations are expressed on the network (the same is a different version) that it was not an explosion, but a shot from a grenade launcher with a direct hit on Turkish armored vehicles.
Rural Idlib

The targeting of a Turkish military vehicle within the joint patrol, which led to its damage# Syria pic.twitter.com/QtqZgHHb49

- Sohayb Masri (@ Sohayb_Masri1) August 17
SYRIA: Footage shows the moment a Turkish vehicle was struck by an RPG during joint patrols with Russia in the Idlib countryside. pic.twitter.com/CRkmnpxFNa

- Conflict News (@Conflicts) August 17