The press service of the Ukrainian naval forces published information about the combat training of cadets of the Marine Corps School with the assistance of the 73rd Marine Corps Center for Special Operations of the Ukrainian Armed Forces.
During the training, as reported in the summary, tactical issues were practiced in the implementation of the amphibious assault and operations in the "urbanized area."
Specialists of the 73rd Marine Corps Center conducted theoretical and practical exercises on the landing of troops on a prepared and unprepared coast. The press service notes that the cadets were trained in interaction in the landing group, mutual cover, and clearing buildings from enemy forces.
According to the head of the Marine Corps School, Lieutenant Colonel Igor Kutsar, the cadets use the landing craft, having previously received knowledge of its tactical and technical features.
The attention of users was attracted by photos from the training of Ukrainian cadets-marines.
In particular, it was noted that the so-called "combat training exercises" were carried out without special equipment for the marines. Several comments from Ukrainian users:
The country spends more than 5 percent of its GDP on the army, numerous volunteers help, and in the exercises the Marines look like pioneers from the Soviet Zarnitsa.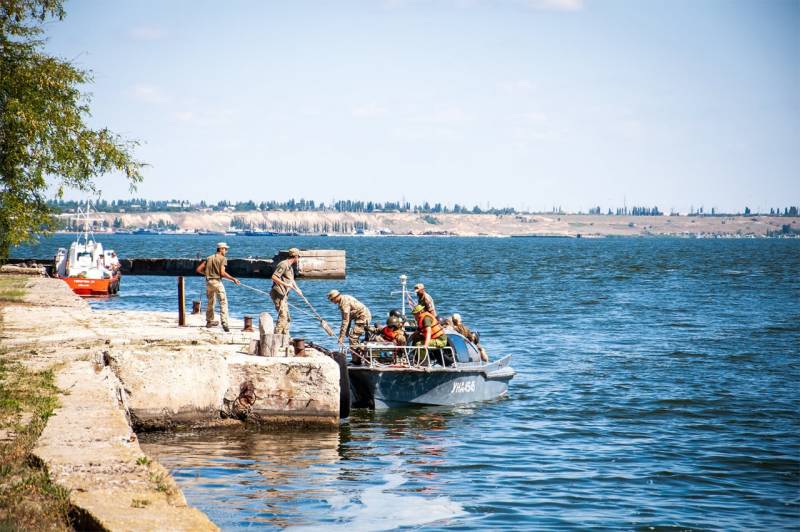 What unprepared coastline are they talking about when disembarking from an ordinary boat?
And in the conditions of a real battle with a real enemy, they also expect to be met on the shore and secure the boat with mooring lines?