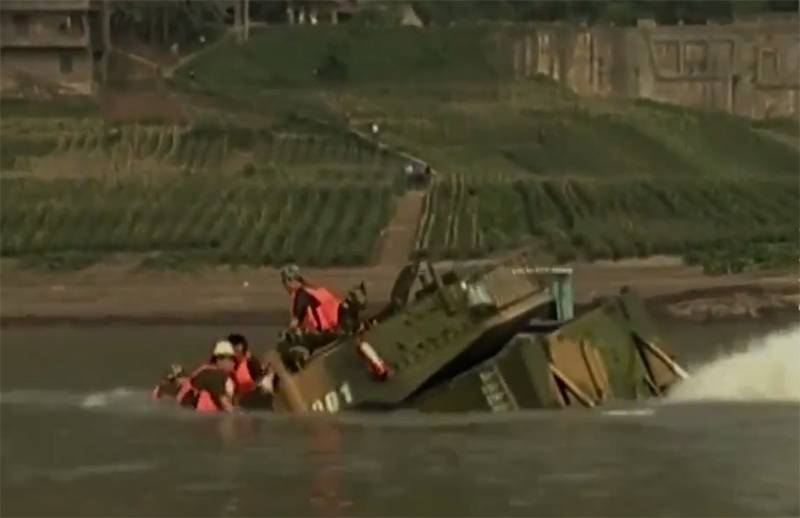 Published a video of the tests of a Chinese armored amphibious vehicle, which took place on the Yangtze River. It is about floating
tank
Type-05AAV with a 105 mm cannon.
Armored vehicles of this kind began to enter service with the People's Liberation Army of China in 2015. Prior to that, representatives of the manufacturing plant, together with the military, carried out several stages of testing.
One of the stages was testing the Type-05AAV at full speed when crossing a water hazard. Such tests were carried out several years before the introduction of armored amphibians into service with the Chinese army. And one of the test "races" on the water was then unsuccessful. The floating tank covered several tens of meters, and then suddenly began to sink under the water. A Chinese armored vehicle sank in about 25-30 seconds. The test crew in orange life jackets began to urgently leave the light tank, which rushed to the bottom.
Today, Taiwanese users are paying attention to the video, which appeared on one of the Chinese channels. The fact is that in Taiwan they continue to believe that Beijing is preparing an invasion of the island. And one of the means of such an "invasion" seems to be the PLA Type-05AAV amphibious light tank.
As noted in Taiwan, the video originally appeared on the CCTV9 channel live, and when the PRC began to prepare the film "
History
military industry ", which was released the other day, it was decided to cut this episode of tests.
How a Chinese amphibious tank sank during tests pic.twitter.com/gwHxyHX22A

- Volodin-Topwar (@VolodinTopwar) August 17