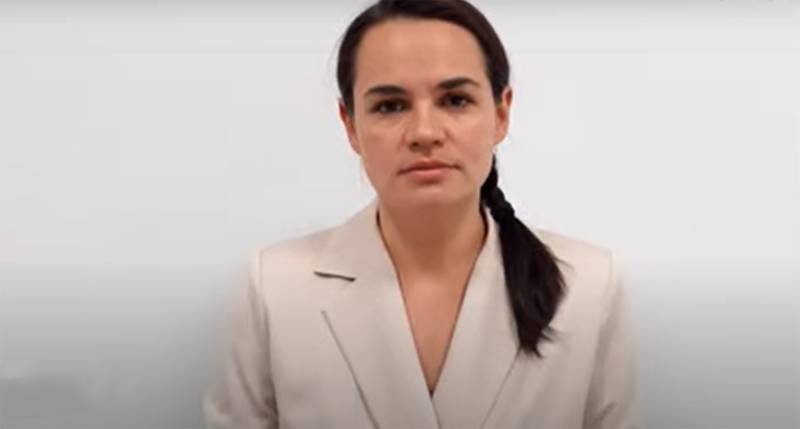 Materials appeared in the Polish and Lithuanian media with reference to the head of the press headquarters Svetlana Tikhanovskaya, who, after the defeat in Belarus, left the territory of the republic and left for Lithuania. Tikhanovskaya's press secretary, Anna Krasulina, in a comment to the major Polish newspaper Rzeczpospolita, said that their headquarters expects the West to recognize Svetlana Tikhanovskaya's victory.
Krasulina added that a corresponding statement is being prepared at the moment:
We expect that the West will accept the choice of the people of Belarus and recognize the victory of Tikhanovskaya (in the elections).
It is noteworthy that these words sounded a few days after the video message of Tikhanovskaya herself - when she fled to Lithuania. In that video message, the ex-candidate, who, according to the Central Election Commission of the Republic of Belarus, received about 11% of the vote, declares that she could not be strong and "remained a weak woman," making it clear that she would not lead the protesters. Now in the West, apparently, Ms. Tikhanovskaya was explained that protest without a "leader" is a waste of money, and therefore convinced Alexander Lukashenko's main rival in the elections to actually take the path of self-proclamation as president.
This option can be called "Plush Guaido". The fact is that in Venezuela, Juan Guaido, having lost the elections, also proclaimed himself president. However, the essential difference is that Guaido did it in Caracas, while Tikhanovskaya left her homeland. However, it is believed that in the case of Tikhanovskaya, a performance will now begin with her invitation to the American Congress and other "strongholds of democracy." At the same time, it is important to remind that in Venezuela, after thousands of protests actively fueled from abroad, these very actions eventually gradually subsided. Following the rise in oil prices, the economy also began to recover little by little.