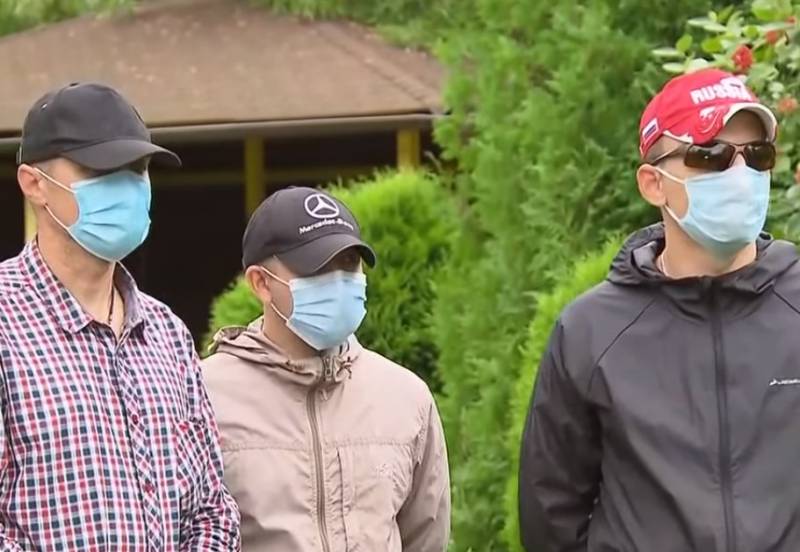 Russian citizens, whom the Belarusian law enforcement officers ranked as Wagner's PMCs, told how they got to Belarus. According to them, they were offered to work at oil facilities in Syria and Libya.
After returning to their homeland, they reported this on the Russia 24 TV channel.
The guys said that they only learned about the elections in Belarus upon arrival in this country. They did not plan to stay there, since for them Minsk was just a place to transfer to another plane.
Russians were sent to oil facilities where they needed personnel with combat experience, preferably in Syria or the Donbas. Due to overlaps on the part of the person in charge of logistics, they had to stay at the Belorusochka sanatorium near Minsk.
As one of the released Russians said, he accidentally came across an ad on the Avito website and called the number indicated there. He was answered by a certain Sergei Petrovich, who offered a high-paying job for a group of employees with combat experience. At first, he said that he needed 30 people, but soon his needs increased to 180 potential guards.
While the group was being recruited, conditions gradually changed. In addition to the number of employees, the country of destination has unexpectedly changed. If initially it was about Syria and Libya, then the employers said that it was necessary to fly to Venezuela.
The woman who was organizing the trip named the guys Larisa Samarina. She said that she would have to fly from Belarus with several changes on the route Minsk - Istanbul - Havana - Caracas. She allegedly did not manage to dock flights so as not to stay for a long time in the transit zone of Turkey, so she offered to wait for the flight for several days in the Belorusochka sanatorium.
End of this
stories
famous. The Russians were detained by the Belarusian security forces on suspicion of organizing riots, terrorist attacks and other horrors. Subsequently, it turned out that this was a special operation of the Ukrainian special services with the aim of driving a wedge into Russian-Belarusian relations. After the elections, the detained citizens of the Russian Federation were released and sent to their homeland.