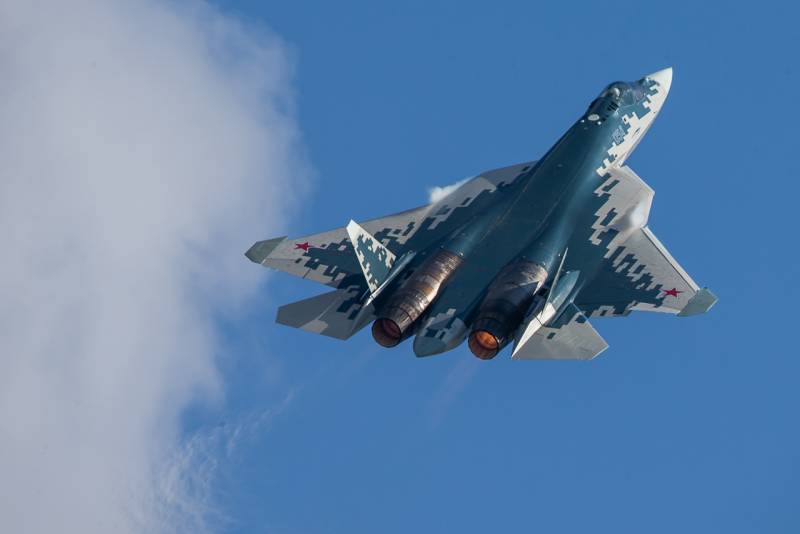 One of the main characteristics of the fifth generation fighter is the implemented stealth technology. In general, this is a complex of technologies that is associated with a decrease in radar signature, signature in the infrared range. One of the defining parameters in this case is the effective scattering area (ESR). It is a quantitative measure of the scattering of electromagnetic waves.
In turn, the EPR indicator is associated not only with the stealth technology implemented on the fighter itself (including the use of composite materials in the airframe, special radio-absorbing coatings), but also with the distance from which the enemy's airborne radar is tracking.
Earlier, the manufacturer of the Russian fifth generation fighter Su-57 called the effective area of ​​dispersion of the aircraft at 0,3 square meters. Of course, this is significantly higher than that of the F-22 and F-35, but even in this case, the Russian aircraft is inaccessible to the avionics (avionics) of fifth-generation American fighters at medium distances. For example, to modernize the American APG-77 radar with AFAR, the detection range of a "standard" target with an EPR of 1 sq. M. is about 200 km. This is when the azimuth field of view is plus or minus 60 degrees.
For an indicator of the effective scattering area of ​​the Su-57 of 0,3 square meters and below, detection at long distances is impossible. In order for the F-22 avionics to detect the Su-57 in the sky with a high degree of probability, it will have to monitor the airspace with the entrance to the engagement zone of the Russian fighter's weapons. And this despite the fact that the number of standard weapons of the Russian fifth generation fighter, as previously reported, will include a modernized version of the hypersonic missile of the Kh-47M2 "Dagger" complex with a maximum speed of 10 (according to other sources - 12) M. "Dagger" missiles are capable of delivering damage to enemy ships, its infrastructure.
In other words, the F-22 will be able to reliably detect the Su-57 only after entering the missile range of a Russian combat aircraft. For obvious reasons, this is already a risk for the F-22 itself, even if it tries to prevent the launch of the "Dagger" at targets on land or at sea.
Experts note that when the Su-57 and F-22 "meet" in the air, two things can ultimately play a key role: effective missile weapons and super-maneuverability. And in terms of maneuverability, Russian fighters are significantly ahead of American ones, which, in fact, is recognized in the United States itself.