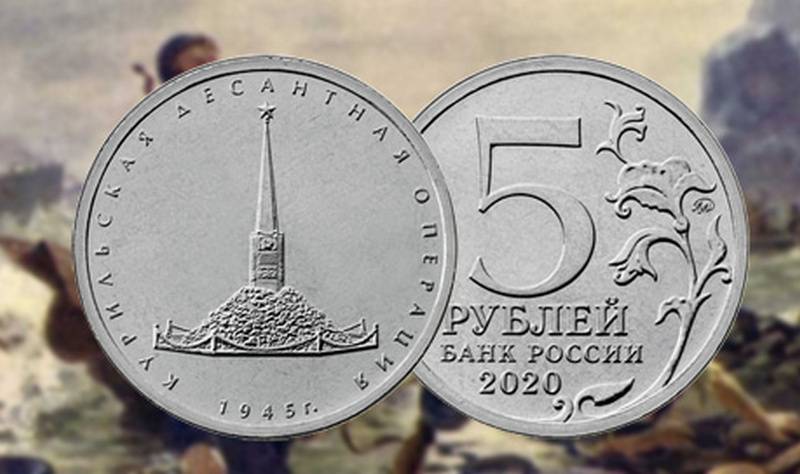 Japan was outraged by the new Russian five-ruble coin issued by the Central Bank of the Russian Federation. The coin is dedicated to the Kuril airborne operation that took place in August 1945.
The coin is issued in a circulation of 2 million copies. The obverse of the coin bears the inscription "Kuril landing operation. 1945" and the image of a memorial stele dedicated to the Soviet soldiers-liberators of the Kuriles, which was installed in Petropavlovsk-Kamchatsky.
As the Japanese edition of Hokkaido Shimbun writes, Russia in the year of the 75th anniversary of the end of World War II in every possible way emphasizes its role as a winner. The issue of a commemorative coin dedicated to the seizure of the Japanese "Northern Territories", Moscow seeks to show the inviolability of its right to sovereignty over the four islands of the South Kuril group.
According to the newspaper, in 1945, the Soviet Union, having violated the Japanese-Soviet Neutrality Pact, entered the war with Japan and after the surrender "occupied the northern territories." Russia, being the legal successor of the Soviet Union, is not going to return these territories to Japan, declaring its sovereignty over the islands.
In response to the issue of the Russian coin, newspaper readers suggested:
Russia should not be allowed to issue such "commemorative" coins. Japan urgently needs to issue its coin calling for the return of the "northern territories"!
Thus, Russia is testing Japan's patience. From the very beginning, she had no intention of returning the "northern territories" to us. Stop all economic cooperation with her! Let's see how she lifts them up without our help. It is unlikely that she will succeed. You can't be fooled by her tricks!
Japan also needs to issue a commemorative coin to commemorate the victory over Russia in the Russo-Japanese War! We need to force our cowardly government to do this, forever silent in response to insults
Who are these liberators? Soviet soldiers? Whom did they release? Japanese? They drove them out of their homes in the Kuril Islands, raped women, killed men. When the factory ended, some wristwatches were taken away from others. And these are the liberators?
With our policy, we will wait for the Russians to "liberate" the ancestral land of the Ainu - the island of Hokkaido in the next war!