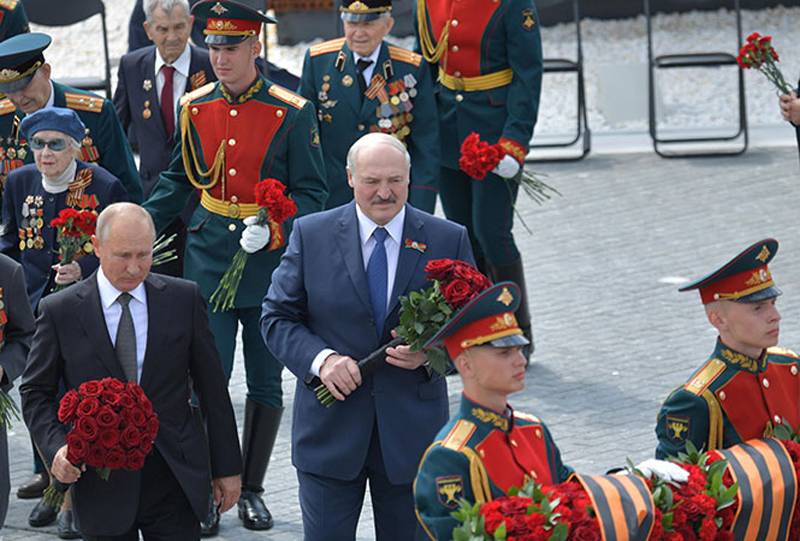 President of the Republic of Belarus Alexander Lukashenko commented on what is happening in the country. It should be reminded that mass protests in the country began against the background of the announcement of the results of the voting on the presidential candidacy. According to official data, Lukashenka won the elections with a huge lead over his competitors (over 80%). Many residents of the republic considered that the results were falsified and took to the streets of large cities. Labor collectives of Belarusian factories, including MTZ and BelAZ, began to join the protest actions.
During today's meeting, Alexander Lukashenko touched upon the socio-political situation in Belarus and "remembered" the Union State. According to Lukashenka, it is clear what is happening "in the depths". From his statement:
We do not need to lull us with peaceful actions and demonstrations. Elements of external interference have already appeared by the textbooks of color revolutions.
Lukashenka said that it was necessary to contact Vladimir Putin.
President of Belarus:
Aggression against Belarus is unfolding. We need to contact Putin, the President of Russia, so that I can talk to him now.
According to Lukashenka, today the protection of Belarus is "no less than the protection of the entire Union State".
Lukashenko:
If the Belarusians can't stand it, the wave will roll there.
Apparently, Lukashenko has in mind the Russian Federation - as the direction "where the wave will roll."
According to the statement of the President of Belarus, those who walk on the Belarusian streets today do not understand this, but those who coordinate and direct them perfectly understand.