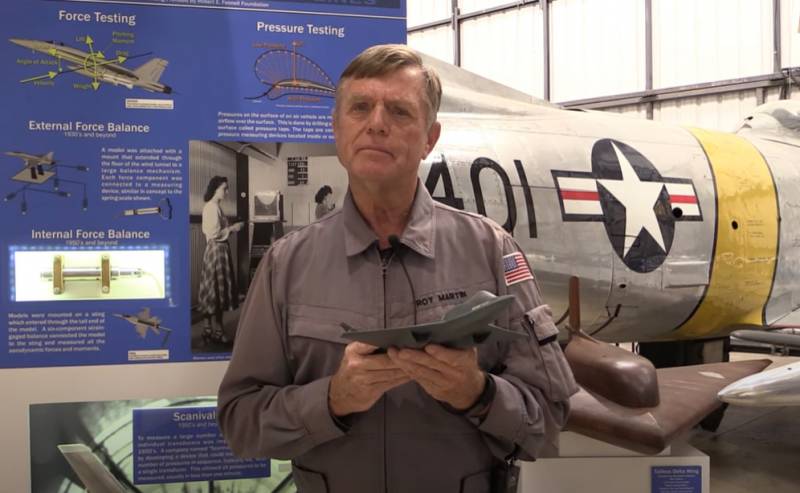 The development of fifth generation fighters in the United States began with competition between the YF-23 and YF-22. At the same time, the first flight of the YF-23 (a copy of the "Black Widow II") was made in August 1990 - 30 years ago. A couple of months later, the second copy of the fighter being created, the "Gray Ghost", took to the sky. These aircraft had some differences, the main of which were different engines.
Despite many advanced technologies at the time, the YF-23 project lost out to the YF-22 rival, and as a result, the first fifth generation fighter in the world, known today as the F-22, appeared in the US Air Force.
This week a video appeared on the Internet, where American test pilot Roy Martin talks about the YF-23 "Black Widow II" aircraft with a prototype of the fifth generation fighter. One of the important emphasis he makes on the innovative flight control system, which was used on a fighter that never went into series.
It is noted that one of the implemented technologies was the technology of using the acceleration-deceleration throttle, which allowed the pilot to effectively control the speed limit. The test pilot says that the intuitive control system allowed the pilot not to pay special attention to the kinetic state of the aircraft and to focus on something important. At the same time, Roy Martin notes that initially the control of the YF-23 was "quite troublesome", since "any distraction, even for a moment, could lead to a sharp change in its speed."
The test pilot talks about the implemented replacement of pitot tubes for measuring the head (pressure) of an air stream. Tiny holes were used as replacements, which were used as a new technology on the secret demonstrator Tacit Blue (an experimental aircraft that took off for the first time in 1982). In the United States, Tacit Blue was given the unofficial name "Kit".
The flaperons (flap ailerons) on the YF-23 were controlled using super-powerful actuators due to the fact that the aircraft wings were extremely thin. A new type of drive was also implemented to control the YF-23 tail system.
From the narrative:
The control was provided by a two-stage drive. The problem was that the huge tails had to be able to move quickly at slow speeds during air combat, and also be able to literally push ultra-high pressure air during high-speed flight, significantly exceeding the speed of sound. The result was a drive with two separate chambers to do both.
As a result, the YF-23 achieved high performance in super-maneuverability without the use of complex and heavy thrust vector control nozzles.