On August 13, reports began to appear in the press about an alleged clash in the Mediterranean Sea of ​​warships of the Greek and Turkish fleets. Initially, this incident was denied by the military. However, they pointed out in sharp tones the need for adequate behavior at sea.
Still collided?
On August 14, one of the largest Greek publications Kathimerini reported that on Thursday two frigates collided in the Mediterranean Sea - F-451 Limnos and F-247 Kemal Reis:
The Turkish frigate ["Kemal Reis"] was damaged, in contrast to the Greek, which participated in the Greek-French joint exercises in the region on Thursday
- explained the publication, indicating that this incident will be considered at the extraordinary Council of the EU on foreign affairs with the provision of relevant materials.
Recep Erdogan, in turn, announced an attack on the research vessel Oruc Reis, which is working on the disputed shelf:
We said not to attack the Oruk Reis or pay a heavy price. And they got the first answer.
At the same time, it is not clear what exactly Erdogan had in mind.
According to Kathimerini, the incident was presumably caused by a mistake by the Turkish captain. A number of sources reported on the commission of a bulk on a Turkish ship. The Greek edition of Army Voice believes that the clash can be roughly divided into three stages. The Turkish frigate moved across the Greek frigate, which was forced to sharply slow down. As a result, "Kemal Reis", slipping past its "counterpart", substituted the board under the attack of "Limnos".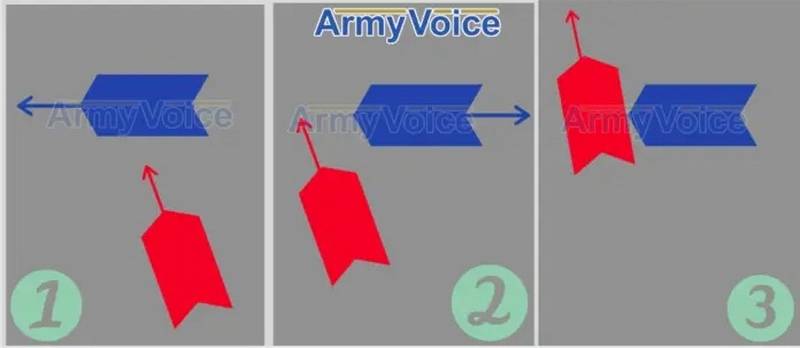 Collision pattern (c) Army Voice
Was there an incident?
A series of photographs uploaded by the General Staff of Greece show joint exercises with France. The F-451 frigate, which participated in the incident, also appears on them. According to a number of experts, his nose is "decorated" with a dent, which, presumably, could have formed as a result of the impact.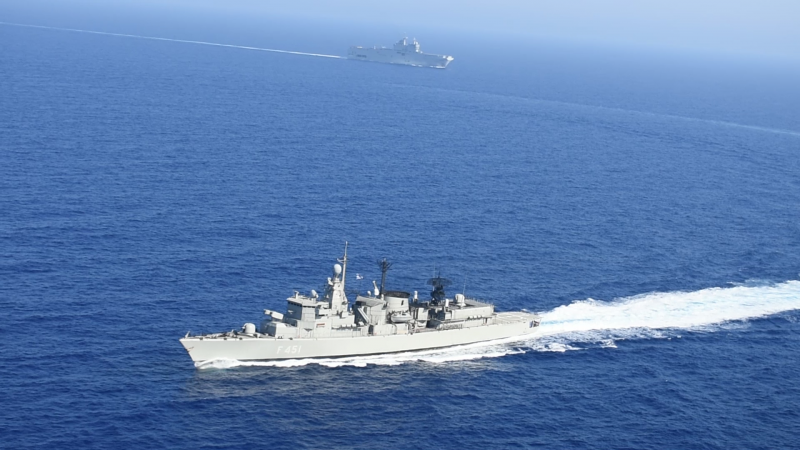 F-451 "Limnos" (c) General Staff of Greece
From the Greek side, there were reports of serious damage to a Turkish ship, which was allegedly forced to head to port. In contrast to these allegations, Ankara posted a video footage showing the "Kemal Reis" in the marching row with the research vessel, which it is supposed to cover.
F-247 "Kemal Flight" (c) of the Ministry of Defense of Turkey
However, Army Voice believes this video only confirms the incident. According to him, the blow of the Greek frigate fell below and above the waterline of the starboard side of the Turkish ship. The influx of water forced to balance the ballast, transferring it, if necessary, to the port side. One of these moments was captured on the video: in the last seconds it is clearly seen that the ship has received a corresponding roll.
Given such controversial statements, in the end it remains unclear: whether the collision took place, if so, how, and what consequences came after the incident.
Milli Savunma Bakanlığı son paylaşımını, dün Yunan Fırkateyni Limnos'u 'sopalayarak' bölgeden uzaklaştıran (F-247) Kemal Reis fırkateynimizin # OruçReis'i himaye eden "gün içi görev" görüntüsüyle yaptı.@ChristianChristian pic.twitter.com/L0vTqymFVB

- Abdullah Ağar (@ abdullahagar2) August 13