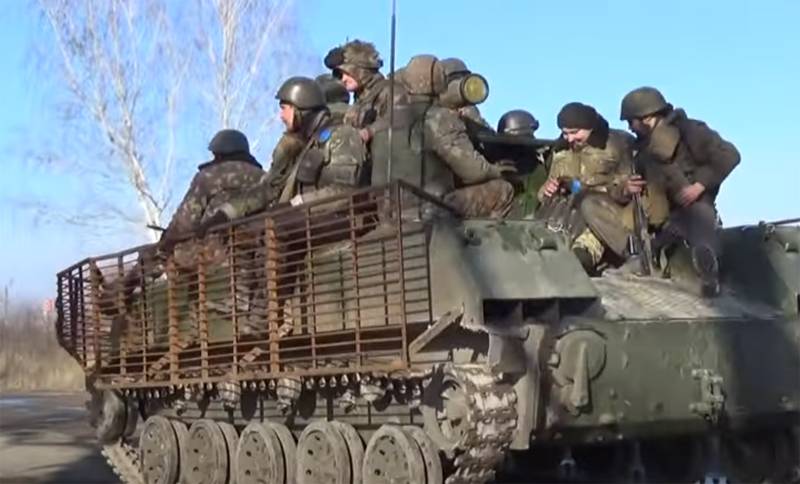 At about midnight on July 4, 2014, the squad leader, Sergeant of the Armed Forces of Ukraine Dmitry Bazhura, was preparing his subordinates to repel an attack by the militias near Mount Karachun near Slavyansk. According to the Ukrainian military, his unit at that time was surrounded.
His story was published by the "Army Inform" edition, which is under the jurisdiction of the Ministry of Defense of Ukraine. Of course, the veracity of these memories remains on the conscience of the former sergeant and Ukrainian journalists.
As Bazhura said, before the offensive, the militias fired at the positions of the Armed Forces of Ukraine from mortars for about an hour. When the sounds of approaching enemy armored vehicles were heard, Dmitry, who at that time had the experience and skills of a gunner-operator, took a place near the BMD-2 sight. To see through the fire and smoke, he turned on the Luna headlight. Lighting helped to see a tank at a distance of 200 meters, followed by two infantry fighting vehicles, one BMD and one more tank.
The militia tank was the first to fire, but two of its shots missed the target. Here Sergeant Bazhura, according to a Ukrainian source, remembered the instructions of his instructor and tried to damage the caterpillar with fire
tank
to immobilize it. He succeeded.
The tank crew, whose attention was focused on the Ukrainian BMD firing at it, did not notice the grenade launcher, who hit the militia's combat vehicle with a shot. The tank caught fire, after which its ammunition soon exploded.
Further, with the support of fire from Mount Karachun, where the positions of the 95th airmobile brigade of the Armed Forces of Ukraine were located, the Ukrainian fighters managed to knock out another BMP, and the second was blown up by a mine. The militias had to retreat.
After this battle, Dmitry Bazhura received the Order For Courage, III degree. Today he holds the rank of warrant officer and holds the position of a technician at the information and computing center at the Military Academy in Odessa.
In 2014, the defenders of Donbass, many of whom took hold of
weapon
, were opposed, including by the professional military, deftly handling equipment and weapons. However, in the nascent army of the DPR, one could also meet then experienced and knowledgeable fighters, some of whom passed the "hot spots".
Mount Karachun is the highest point in the vicinity of Slavyansk, from where Ukrainian troops fired at the city with heavy artillery in 2014.