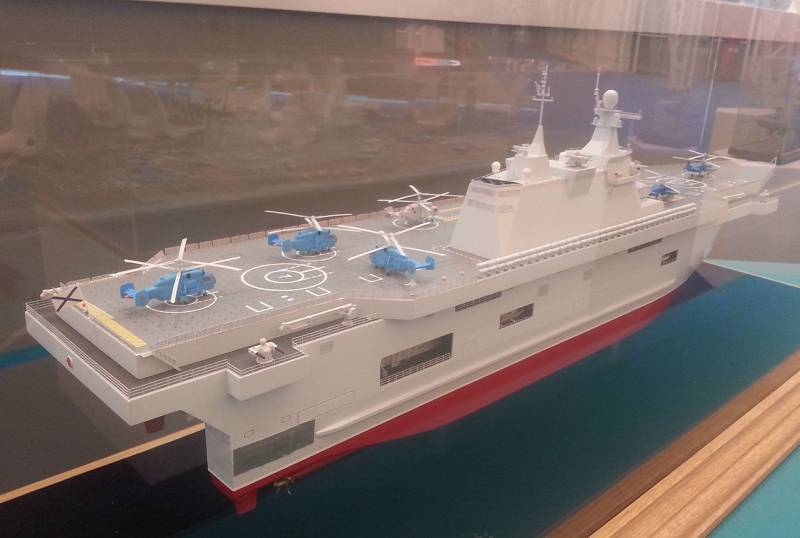 The universal amphibious assault ships (UDC) laid down in Kerch will be built according to revised designs, their displacement will be more than 30 thousand tons. This is reported by TASS with reference to a source in the shipbuilding industry.
According to the source, according to the modified tactical and technical characteristics, each UDC will carry 16 heavy helicopters, and will also receive deck attack unmanned aerial vehicles. What kind of drones we are talking about, the source did not explain. In addition, the UDC dock chamber will accommodate up to 4 landing craft.
The tactical and technical characteristics of the ships have changed markedly during the design process. Their displacement has increased to more than 30 thousand tons, they will carry 16 helicopters of the entire range, as well as deck attack and reconnaissance drones. The ships will be able to carry up to 1 marines
- quotes the agency of the source. Earlier it was reported that the ships' displacement will be within 25 thousand tons.
He also clarified that the transfer of the first helicopter carrier to the Russian Navy is expected in 2025, and the second in 2027.
Recall that the laying of two UDCs of project 23900 took place on July 20, 2020 at the Zaliv shipyard in Kerch. The ships were named "Ivan Rogov" and "Mitrofan Moskalenko". The UDC project was developed by Zelenodolsk Design Bureau.