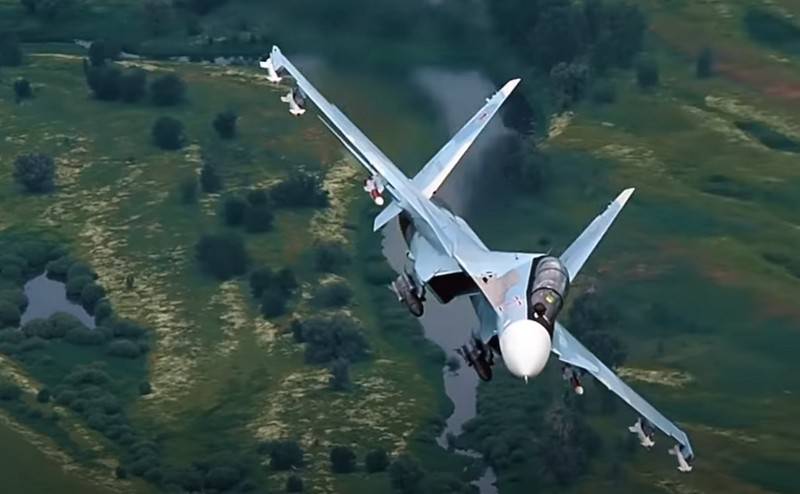 The Polish edition of Defense24 appreciated the new modernization of the Russian multifunctional fighter Su-30SM, carried out as part of the Adaptation-Su design and development project. According to Polish experts, after receiving a heavy missile, the fighter will significantly increase its own power.
The publication writes that as part of the ongoing R&D, Su-30SM fighters will receive a heavy air-to-surface missile, created on the basis of the Kh-32 liquid hypersonic missile. The adoption of such a missile into service will significantly increase the range of the fighter. Thus, the Su-30SM can complement the Tu-22 and Su-34 bombers, increasing Russia's offensive potential at both the operational and strategic levels.
The Kh-32 rocket launched at high altitude is capable of developing a speed of 5 Mach numbers and flying at a range of 600-1000 kilometers, depending on the selected flight profile
- claims the publication.
According to Defense24, Russia is arming the Su-30SM with a hypersonic missile in response to the American AGM-158 Joint Air-to-Surface Standoff Missile-Extended Range (JASSM-ER) missiles, which are armed with American F-16 fighters deployed in Europe, and on the territory of Poland.
It is argued that this missile will also be used on the MiG-31, which will adapt to the Kinzhal hypersonic complex.
Earlier in the Russian media there was information about the modernization of the Su-30SM fighters, during which it will receive a new heavy hypersonic air-to-surface missile. In this case, the name of the rocket and its data are not disclosed. According to experts, here we can talk about the adaptation of the X-32 hypersonic missile for use on fighters, although the option of creating a completely new ammunition is possible.