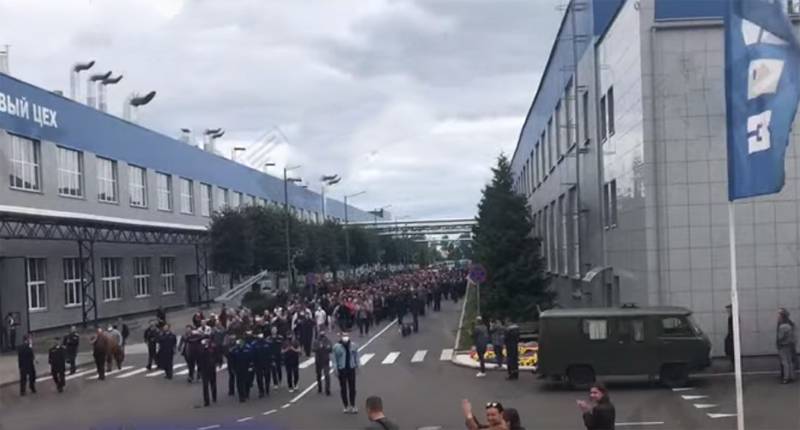 There are reports from Belarus that more and more enterprises are joining the strike. It became known that the so-called "Italian strike" (when people come to work, but refuse to work - until the requirements are met) were supported by ordinary employees of one of the largest car factories in Belarus - BelAZ. It is a company with an annual turnover of over 900 million euros and a workforce of at least 10 thousand people.
The strike of BelAZ workers is greeted with enthusiasm by the Western media, as well as pro-Western Belarusian resources.
The workers, who have already gathered on the territory of the plant in a "strike" format of several hundred people, are shouting the slogan "Go away!" Against this background, demands are being made "to hold fair elections in the country."
The shouts of the people are supported by car horns:
BelAZ chants "go away!" pic.twitter.com/FJ4I4wVhs3

- Tea with varennem (@belteanews) August 13
It is important to note that the main market for BelAZ is the Russian Federation. Our country purchases more than 55% of the produced mining dump trucks, loaders and up to 80% of components for them.
If the plant stops its work, it will cause irreparable damage not only to the plant, but also to the economy of the Republic of Belarus.
In the Russian blogosphere, the situation at "BelAZ" was designated by the well-known expression of the Russian classics "The house is gone." I would like to hope that such an assessment sounded premature.