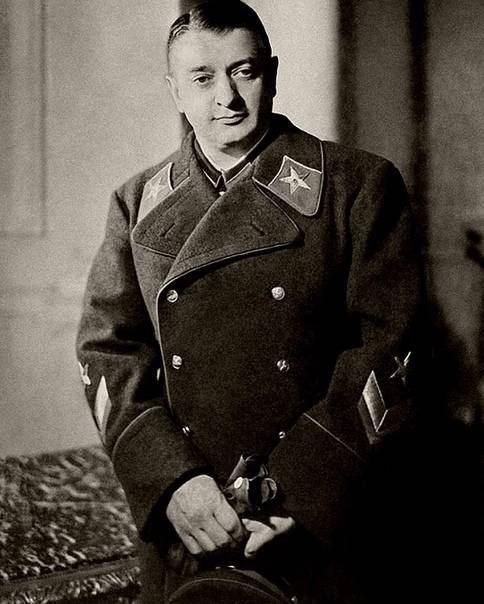 The ghost ... The ghost wanders across Russia. He looks into hangars, at the parking lots of equipment, at design bureaus and institutes and mutters something rather. Apparently, everything goes the way he likes.
A ghost in a budenovka, a long-length greatcoat, chrome boots, outwardly very reminiscent of the would-be People's Commissar Marshal Mikhail Tukhachevsky.
Why is that? Because in reality, a lot of coincidences take place today in terms of the development of the most "newest and" unmatched in the world "weapons. Too many, I would say.
Let's rewind the tape of time and fast forward to those very 30s of the last century. It would be very nice to see what was happening then and compare with what is happening today.
And since 1930, a construction orgy began in the Soviet Union. Built
Tanks
and planes. Tukhachevsky generally demanded to build 122 aircraft and 000 tanks. During the first five-year plan.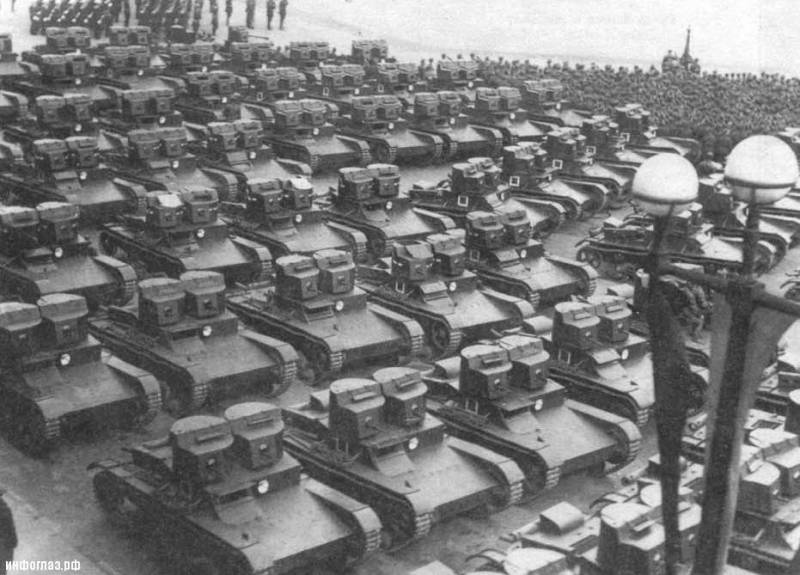 They say that Hitler cherished plans to conquer the world, having built as many as 1.09.1939 tanks by 2/977/100. What then was going on in the head of Tukhachevsky, who demanded 000 tanks from Stalin? At a time when Germany had none? And the country's army numbered ... 100 thousand people!
That is, for every German soldier a Soviet tank had to come out. Wow ambition, right?
As a result, the Red Army received many samples of excellent technology. From which 22.06.1941/XNUMX/XNUMX there was absolutely no benefit.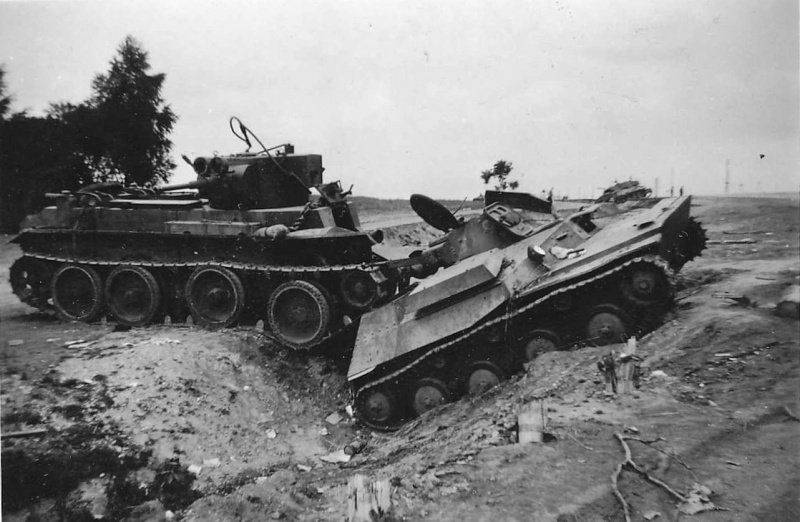 T-35. A ceremonial mastodon, not fit for anything but parades.
T-37 and T-38, amphibious tanks, which were used in 4 years of the war in one single operation. 2670 pieces of T-37, 1430 pieces of T-38.
BT-7, wheeled-tracked tanks, which were not used as wheeled ones. Due to the elementary lack of roads. 8 249 pieces of all modifications.
TB-1 and TB-3, the prototypes of strategic bombers, completely defenseless and useless. 212 TB-1 and 818 TB-3.
Dynamo-reactive guns of the Kurchev caliber from 76 mm to 500 mm, which were not shoved anywhere.
T-27, tankettes, which were unsuitable even for fighting the Basmachi gangs. 3 155 pieces.
And there are many other, no less interesting, iconic and completely useless durovs that swallowed up a lot of metal, money and man-hours.
But now I do not set my goal to once again disturb the spirit of Mikhail Tukhachevsky, because there is absolutely no need. The concern is that his followers are currently continuing to work - not entirely, however, it is clear, for the good of whom.
And since executions today are unrealistic, the followers of Tukhachevsky can calmly do their job. To create all these anti-tank guided torpedoes, universal guns, radio-controlled boats, cardboard tankettes - everything that was stamped in the USSR before the war.
Although you must admit, a decent truck, an armored personnel carrier, an artillery spotter and a radar station would be much more valuable.
The last one on the list was the T-27 tankette. And it happened for a reason. This caterpillar misunderstanding has already been written and even shown in paints.
Stories about weapons. Wedge t-xnumx
.
It is impossible to add anything beyond what has been said, so ... So it remains only to answer the question: why, in fact, suddenly remembered?
And I remembered because last week at RIA "
News
"I saw another bravura urya-material. About our near future. About the combat robot "Marker", which was shown last year and which will be completed next year and will go into series.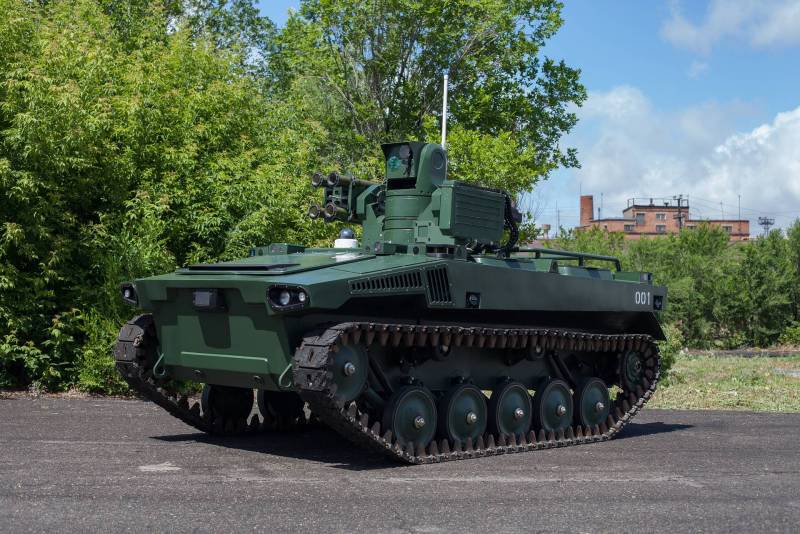 And, naturally, it will defeat all our possible and impossible enemies. Because the "Marker" is a real robot, it does not need (almost) an operator, more precisely, the operator will only point to the target, and the robot will choose the path and everything else. Analyze the terrain, determine the most promising path, choose and apply the appropriate
weapon
.
In general, what a horror an intelligent robot ...
Already today "Marker" is able to "work" with small arms at ground and air targets, and in the future it will learn to operate with a grenade launcher.
Well, what can I say, we are talking in fact about those very tankettes of Tukhachevsky, only after 100 years. Only in a variation of a drone and kind of like with artificial intelligence. And an operator on the radio channel just in case.
It is worth recalling that the idea of ​​hordes of tankettes at one time suffered a crushing defeat. And not from the army. From the gangs, which not only did not have anti-tank weapons, they had nothing, except for rifles, machine guns and bottles of kerosene. And the Finnish war finally finished off the idea of ​​a wretched armored box with splinterproof armor. The idea of ​​a tracked machine gun has died.
And, after all, the newspapers of the thirties were probably noisy ... They're coming, going to replace the cavalry regiments of steel wedges and tanks, which ...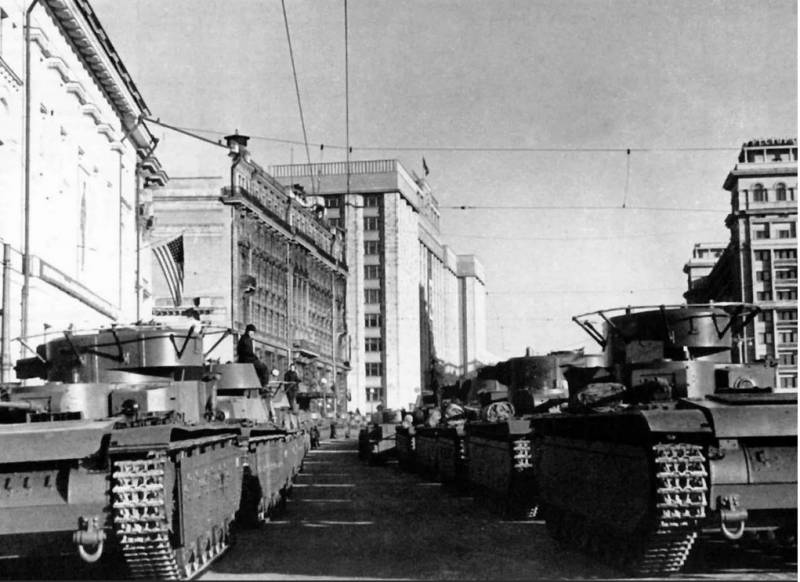 Which were incompetently burned out in the crucible of wars and conflicts, because there was no more wretched concept than a wedge, a wheeled-tracked tank and a floating tank.
And all the countries participating in World War II did without these freaks. Even we, although we have transferred thousands of tons of metal to their production.
And now - again?
Are we again following the ideas of Fuller and Tukhachevsky? Only they planned armada of one-two-seater armored cars, while we have "robots".
Speaking of tankettes, it is worth saying that one of the reasons that buried the idea of ​​baby tanks was just their size. The wedges, precisely because of their small size, could not overcome ditches and embankments, and fragmentation armor made them a victim of even ordinary rifles with a reinforced bullet.
We abandoned the tankettes, the Italians abandoned them, after the tests during the Spanish Civil War. And the advanced countries did not even try to establish the production of horses for the modern knights, preferring normal tanks.
And now we have take two. Wedge heel robot. Which will go somewhere and shoot at someone. And, perhaps, it will even hit. If he gets there.
And it won't be easy for this wedge to get there, albeit with artificial intelligence. Because there are snipers with large-caliber rifles, there are mines, there are machine guns, there are shock drones, grenades and other things that can turn an intelligent robot into robotic scrap metal.
Do you see the difference? So I don't see. For "Marker".
Meanwhile, we are being told tales that it would be necessary to consider in the near future the introduction of another platoon into the motorized rifle company - from robots.
Not a word on where and how these "platoons" of robots will be used. In field? It's funny. For the above reasons. In the town? Even more interesting, I can already imagine dying on the streets in the rubble under the fire of shooters "robots", unable to even provide minimal resistance. Stuck in rubble and ruins.
In general, the armored utopia of Mikhail Nikolaevich Tukhachevsky in the flesh.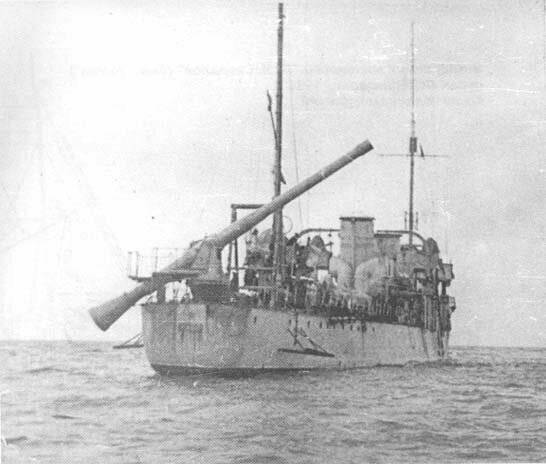 This is also a utopia. Drowned in
stories
, well at least the ship survived. Dynamo-reactive 305-mm Kurchevsky cannon on the destroyer. The charging time for this nonsense is an hour and a half. Through the muzzle.
There is something in common.
Although ... If at first robots go forward, which will be shot by the enemy, then, hiding behind corps, people can go forward. Under the guise of burning robots - why not?
And what about our not very advanced, according to Mr. Zadornov, "partners" -Americans?
And they also have a robot. Not tracked, wheeled. SMSS from Lockheed-Martin. It can carry up to 300 kg of cargo, personal belongings of infantrymen, ammunition to the front line, wounded from the front line, and so on. It can be controlled from the remote control, it can drive along the map from one point to another using the navigator. Or he can move with the fighter he is pointed at.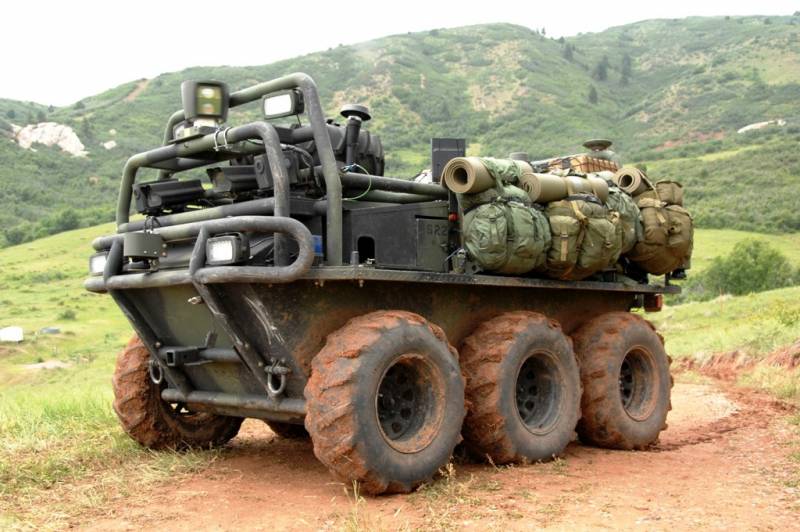 Such a completely peaceful beast. But very useful. The "marker" in such a role does not look perfect, because it simply does not know how to do things like transportation. He's like a fighter.
Meanwhile, SMSS is nothing new. They simply screwed their brains into the so-called "Jigger", an all-terrain vehicle that was very popular in the world in the 70s of the last century. There were some, controlled by levers and built even here.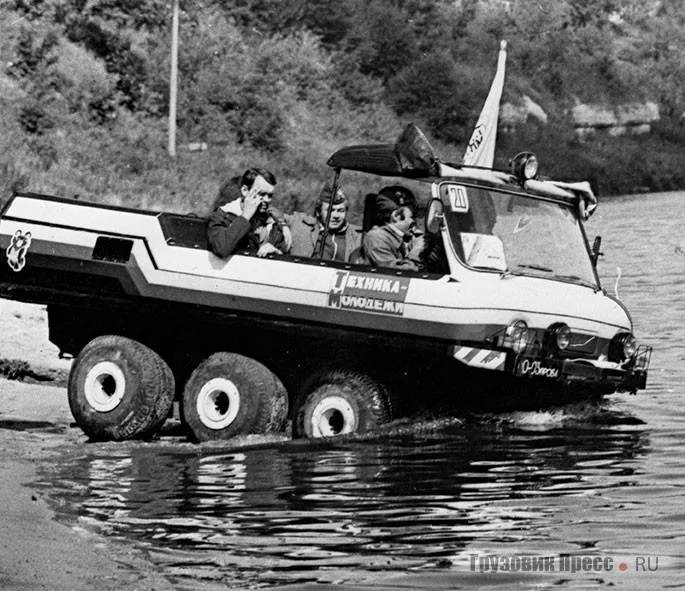 Something like a tractor amphibious. Able to climb a slope, and move a trench, and cross the river.
A very useful thing: a robo-bullet from science fiction, carrying ammunition, a bulletproof vest, food ration, water and everything else on the same forced marches. In short, those same 25-30 kg. Almost the load of a legionnaire of Ancient Rome. But we still have not ancient centuries, but something modern.
And this begs the question: who has the robot come out more useful? Dragging along the rear of the gravity for the infantry, an American or a "fighter" of the Russian robo-army, who has every chance of being incapacitated in the first minutes of the battle?
Personally, it seems to me that the "donkey" is clearly more useful. And, probably, everyone who saiga in the mountains-fields will agree with me on the principle "I carry everything with me".
And I can't really believe that this "Marker" will be so all, as we were told. We are not leaders in robotics or electronics. And after the "success" of our "robot" Fedenka on the ISS and even more so.
So others are making progress today, but who said that those same Americans have nothing to learn from? Attack drones, transport unmanned vehicles, sea and river - all these are the same weapons of war tomorrow, if we are not going to destroy the planet with nuclear warheads.
But what is happening today in our media space is no longer even surprising, but makes you seriously think about what is happening.
Not a month goes by without the people being informed that in a year or two we will adopt another "miracle weapon" that will make the whole world tremble with fear.
Elementary propaganda with a fair amount of hysteria. Shiver, the whole world, we'll show you what!
Why only is not entirely clear. But more and more reminiscent of the times of Tukhachevsky, when at parades everyone was shown something that was absolutely not useful in the war. And German tanks were greeted with the same grenades and bottles of gasoline.
But Tukhachevsky was a rabid and narrow-minded person. And what about those who today order our media about the next "wunderwaffe"? These people do not yet reach the ruler of Germany, who also promised that just about, and that's it, there will be a complete victory. But only a little bit.
Only this year our respective media managed to tell about what is in our warehouses, what will go into service next year, and what - in 10 years.
They talk especially actively about what will happen to us in 10 years. Because who will remember in 10 years what they promised ...
I'm sure this is all just a bluff. There won't be dozens of Poseidons, hundreds of Petrel, thousands of Markers. There will be stories that all of this WILL BE. Later. Over time.
But after such shows, people will be absolutely sure that the money from the country's budget goes where it should be. To strengthen the defense capability.
It is clear that our economy is not in the best condition after the "fight" against the coronavirus, and then we still have to spend billions on the fight against foreign foes. What if they attack? And we have a "miracle weapon", here it is!
True, despite the presence of all these "newest" and "not having ...", I will meet this very foe all the same T-72 and Su-27, and the soldiers on the BMP-2 with the AK-74. Well, we just do not have time to produce "wunder" in the required quantities.
Everything was like in history, isn't it?
The Russian defense industry every year, from festival to festival (even though it is now called a "forum"), becomes like a kind of fashion show. Fashion is often so ... high. That is, they looked, shook their heads, clicked their tongues - and that was all. Buying, sewing, and even more so wearing is not worth it. Dangerous for health.
And "suits", they are more and more so ... unrealistic-virtual. As with the "Petrel" pseudo-missile. The main thing is a video with a "beautiful picture", as they say now. Something started there with a noise and a crash, and that was all. Started, most likely billions, which were spent on the development of the flown away "miracle weapon".
But such a beautiful video. It explains well why our salaries do not grow, in contrast to prices. Because everyone is on the fight and so on.
Speaking about robots, let me give you statistics on robots. There is such an indicator as the number of industrial robots per 10 workers. For 000.
Singapore - 831. South Korea - 774. Germany - 338. USA - 217. China - 140.
The world average is 99.
The average in Europe is 114.
The average in Asia is 91.
And Russia? And in Russia this figure is 5. FIVE industrial robots per 10 thousand workers. Naturally, foreign production.
And how, do you believe in thousands of combat robots who will collect the hands of workers from among the citizens of the middle class with a salary of 17 rubles in dirty workshops?
Me not.
As well as it is hard to believe that all this "newest" equipment, which I saw at parades 10 years ago and I still see, will actually be in the troops. Where is "Armata"? Coalitions? Boomerangs? "Kurgan people"? Transport planes? Destroyers? Frigates? New (I'm not even talking about reusable) spacecraft? National Space Station? Booster rocket?
Continuous PR campaign and stories in the style "Visiting a fairy tale". And billions of billions flying away to nowhere.
At one time, Stalin sent Tukhachevsky with his designs 100 aircraft and tanks. And now the ghost of the marshal and the people's commissar is wandering around Russia and happily rubbing his hands. Everything is according to his canons.
But we won't even see hundreds of produced "wunder", unlike the times of Mikhail Nikolaevich. One "wunder" is enough, which will be shown in the video for "Star". And they will tell you when to expect him. And they will modestly keep silent about how many billions will be spent on it.
So don't expect a platoon of killer robots in every motorized rifle company. Likewise, motorized riflemen should not rely on such a robot horse as their American colleagues, which would begin to carry luggage.
But such a horse would be very useful.