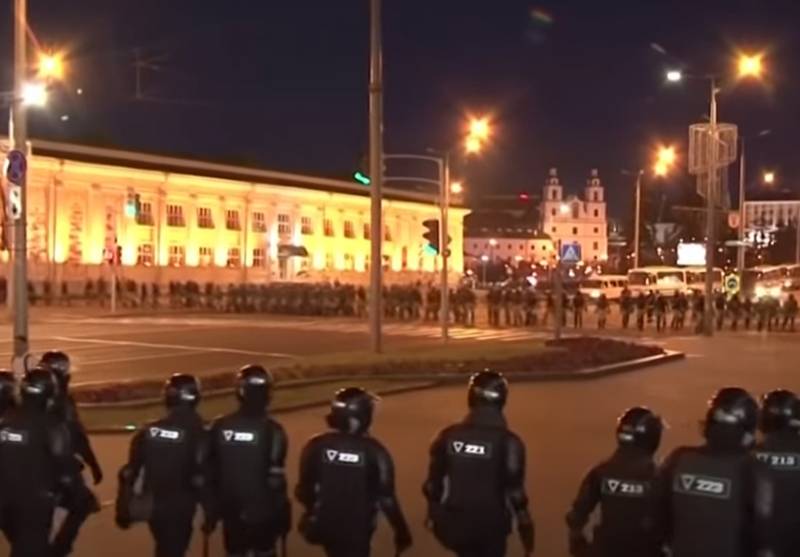 In Belarus, the Internet was again "turned on", and therefore information about the state of affairs on the streets of Belarusian cities fell like a cornucopia. Brest became one of the centers of street protests in addition to Minsk.
Opposition platforms announced that police officers in Brest have gone so far as to use even a service
weapon
... The Ministry of Internal Affairs of the Republic of Belarus confirmed the fact of the use of a service weapon by a police officer, explaining the essence of what was happening and the reasons that prompted the police to take such actions.
An official representative of the Ministry of Internal Affairs of the republic reports that a group of aggressive citizens attacked police officers in Brest. The report says they had metal fittings in their hands. The police officer took a service weapon from his holster and fired a warning shot into the air, but this had no effect on the thugs.
From the report:
As a result, to protect the life and health of the police officer, he had to use weapons, shooting to kill.
The summary also states that the shot was fired in such a way as to cause the least harm to protesters. As a result, one of them received a gunshot wound.
At the moment, only in Brest one hospitalized 23 people with various injuries, including one wounded.
Meanwhile, in Minsk, the local city executive committee issued an appeal to citizens not to succumb to provocations and not to participate in illegal actions on the streets of the Belarusian capital. The Minsk City Executive Committee noted that such actions may entail not only administrative but also criminal liability.
Press service of the Ministry of Internal Affairs of the Republic of Belarus:
The protesters again organize riots and pogroms. Among the detainees there are many previously convicted. The most aggressive group is concentrated in the Serebryanka microdistrict of Minsk.