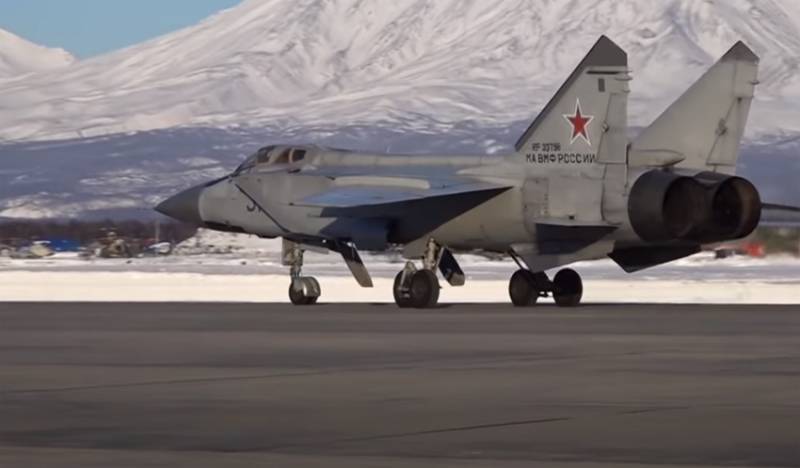 Russian fighter-interceptors were launched into the skies after the discovery of the American strategic RQ-4 Global Hawk reconnaissance drone near the Russian borders. According to the latest reports, a US Air Force drone appeared over the Chukchi Sea.
Three MiG-31 interceptors were sent to intercept it.
According to the National Center for Defense Control (NTSUO) of Russia, the American reconnaissance UAV turned in the opposite direction from the Russian border at the moment when Russian MiGs appeared in front of it. It is also noted that when the Global Hawk departed from the Russian borders a sufficient distance, the MiG-31 aircraft returned to the home airfield.
The NTSUO stressed that the MiG-31 flights were in full compliance with international standards.
From the report:
Violations of the state border of Russia were not allowed.
Previously to intercept other funds
aviation
USA - the US Air Force strategic bomber B-1B Lancer - also used three Russian fighters. Only these were aircraft of the 4 ++ Su-35 generation. Then the experts wondered what it took to lift three fighters into the air at once. Several versions were proposed: from the demonstration of the power of the Russian Aerospace Forces or the military aviation of the Russian Navy to the need to use the three "Sushki" in order to be able to neutralize all B-1B Lancer JASSM-ER missiles. Both versions look somewhat strange, if only because it would be strange for Su-35 pilots in general to wait for the American "strategist" to release all of its missiles.
Now the discussion of the interception of American air assets by three Russian fighters has shown itself again. Indeed, three fighters were also sent at once to intercept the RQ-4 Global Hawk of the US Air Force over the Chukchi Sea. Moreover, in this case, the American aviation facility did not carry any missile and bomb weapons on board. This means that the version about the use of triplets of fighters with the expectation of neutralizing American missiles, as in the case of the B-1B, looks untenable.