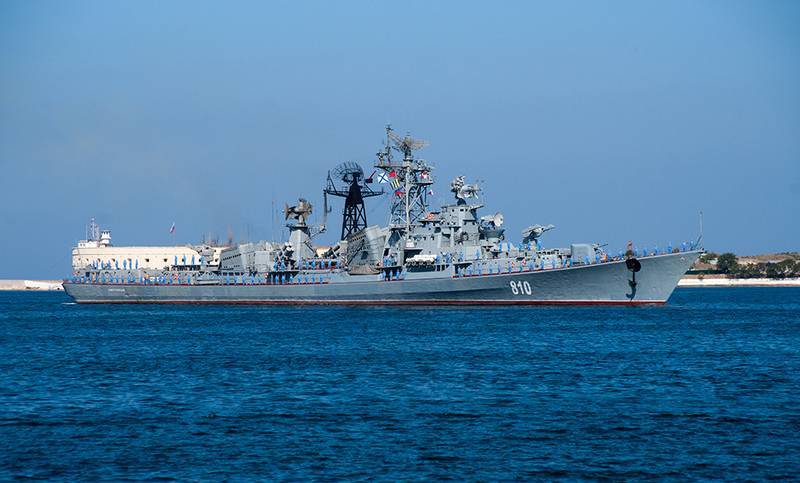 The watchful ship "Shrewd", removed last year from the current Black Sea
fleet
, underwent dock repairs at the 13th shipyard in Sevastopol. According to the press service of the Black Sea Fleet, the ship was taken out of the repair dock.
As noted, the ship was taken out of the dock by two tugs: one was pulling it from the dock into the bay, the other was directing it so that the "Sharp-eyed" would not touch the walls. A third tug has joined the bay and provides insurance during the operation. In the future, a number of works will be carried out on the ship, which will finally turn it into a museum. A reduced crew remains on the Smetlivoy to ensure the survivability of the ship, by analogy with the Aurora.
The Black Sea Fleet patrol ship Smetlivy has been removed from the repair dock. It will be moored at the pier for the next stage of its operation as a museum ship
- said in a statement.
At the beginning of April of this year, "Savvy" was included in the book of records (achievements) of the Armed Forces of the Russian Federation with the wording - 50 years in the Navy. The main achievement of the ship is a twofold excess of the design service life, as indicated in the certificate, which was awarded to the command of the Black Sea Fleet. It is noted that despite the considerable age, the ship until the last carried out combat missions.
The watchful ship "Shrewd" of project 01090 became part of the USSR Navy in 1968. Displacement - 4460 tons, length - 144 meters. It speeds up to more than 30 knots. The main armament is eight launchers of anti-ship missiles X-35 "Uranus", as well as a twin AK-76 726-mm gun mount, two Volna air defense systems (16 missiles), a 533-mm torpedo launcher and two RBU-1000 rocket launchers.