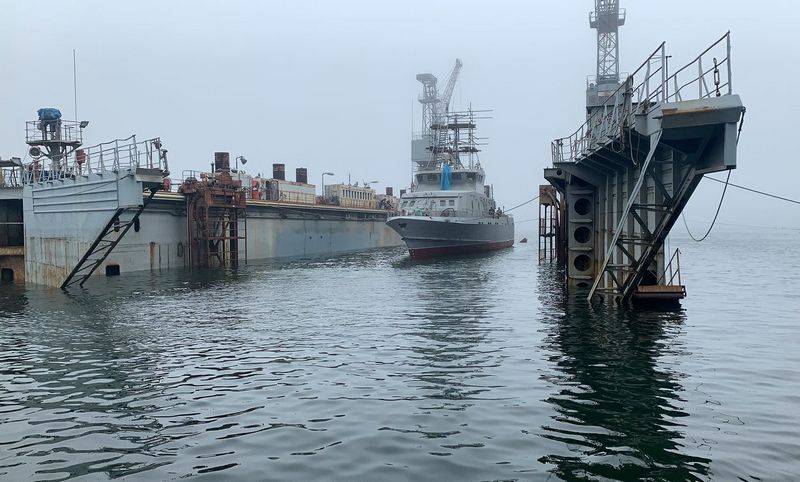 The sixth anti-sabotage boat of the project 21980 "Grachonok" was launched in Vladivostok. The ceremony took place at Vostochnaya Verf, the only shipyard building boats of this project for the Pacific
fleet
... The press service of the GCC reported.
As stated at the enterprise, after launching the boat was placed near the outfitting wall to continue work afloat. After completing the outfitting work, the boat will undergo a cycle of necessary tests, after which it will be handed over to the customer. The entry of the Grachonka into the Pacific Fleet is scheduled for the end of November this year.
Note that Vostochnaya Verf is the only supplier of boats of this type in the Far East; in the European part of Russia, Project 21980 boats are being built at Zelenodolsk Shipyard and Rybinsk.
Project 21980 "Rookie" anti-sabotage boat is designed to combat submarine sabotage forces and means, to support the actions of combat swimmers in the water area of ​​the base station and on the approaches to it. Able to autonomously stay in the sea for up to five days with a cruising range of up to 200 nautical miles.
Displacement - about 140 tons, length - 30 m, width - 7,3 m, draft - 1,8 m, full speed - 23 knots, cruising range - 200 miles, autonomy - 5 days, crew - 8 people.
Armament: one 14,5-mm MTPU machine-gun unit, one DP-64 anti-sabotage grenade launcher, one DP-65 anti-sabotage grenade launcher, four Igla-type MANPADS.
Electronic weapons: navigation radar MR-231, GAS "Kalmar", OGAS "Anapa". There are diving equipment on board.