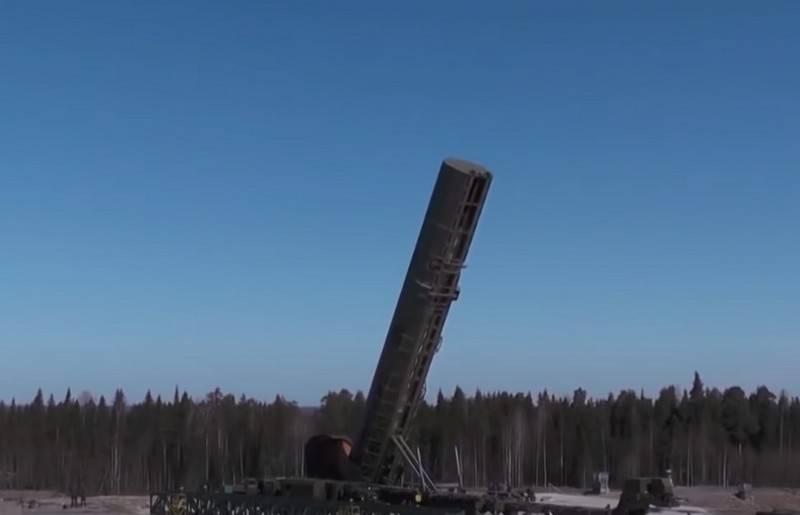 The new Russian heavy intercontinental ballistic missile "Sarmat" may soon be adopted by the Strategic Missile Forces. This was stated by the head of Roscosmos Dmitry Rogozin in the program "Personal Communications" of journalist Yuri Kostin.
According to Rogozin, the Sarmat may soon be put into service; in the Strategic Missile Forces, it will replace the world's most powerful silo-based strategic missile, the RS-20V Voevoda (NATO's classification SS-18 Satan). However, he did not say anything about the specific dates for setting the new ICBMs on combat duty.
I personally control, I am engaged in details of the work that we are currently doing to create a new strategic intercontinental missile system "Sarmat". And when it is put into service, it will, I hope, soon, I will consider one of the tasks in my life completed
- said the head of Roscosmos.
At the end of last year, it was reported that the year 2021 was set by the end of flight design tests of the Sarmat ICBMs. In the same 2021, industry will have to master serial production of a new
weapons
and related systems. In addition, in 2021, the first rocket regiment armed with the Sarmatians will take up combat duty. This will be one of the regiments of the 62 th missile of the Uzhur Red Banner Division of the Strategic Missile Forces. Next, the ICBM will go into service with the Dombarovsk division of the Strategic Missile Forces.
It is not excluded that the RS-28 "Sarmat" will become the carrier of the "Avangard" hypersonic units.
Recall that according to the data released during the Army 2019 exhibition, the firing range of the Sarmat ICBMs is 18 thousand kilometers, the starting weight is more than 200 tons, of which 178 tons are fuel. The total length of the rocket is 35,5 m, the diameter is 3 meters. The head part is divided with 10 blocks of individual guidance.