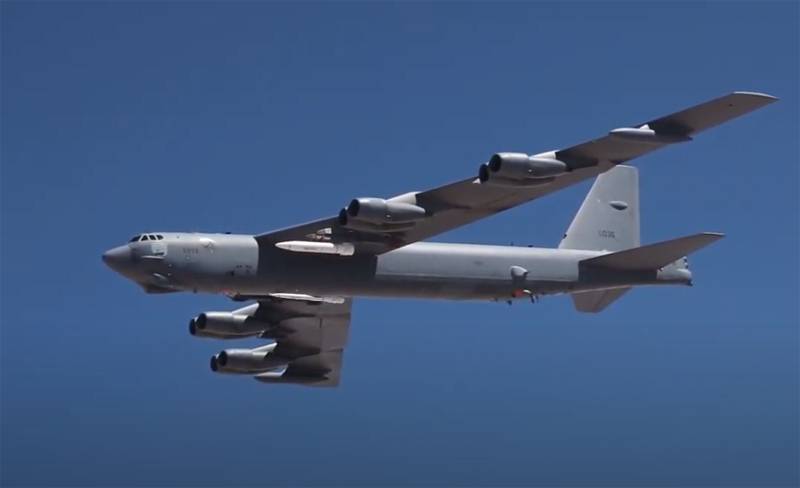 The Western press is discussing a test flight of a B-52H strategic bomber with AGM-183A missiles. A US Air Force bomber took off from Edwards Air Force Base (California).
American journalist Tyler Rogoway writes that a strategic bomber with the number 183-60 and the code designation "Dragon's Inferno" seen with AGM-0050A missiles under its wings was flying for the test use of promising missile weapons.
AGM-183A missiles are created in the United States under the ARRW program - "
Weapon
rapid response airborne ". The missile is about 6 meters long. It belongs to aeroballistic missiles. Moreover, in the Western media it is called hypersonic.
It is noted that this was the first time a B-52H took off, armed with two such missiles at once.
Tyler Rogoway reports that previous flight tests of this weapon ended in failure. In particular, an example is given of the episode when the rocket "just fell off the suspension". Other sources claim that it was "just a mock AGM-183A."
The tests were associated not only with the ability of promising American missiles to accurately hit the target, but with the verification of the characteristics of the AGM-183A by transmitting telemetry to ground stations.
The American press quotes the commander of the 419th flight test squadron of the US Air Force, Lieutenant Colonel Michael Jungkvist:
This week's event demonstrated the ability to communicate with a prototype rocket weapon; the whole team is excited to take the next step and begin vigorous flight testing of our first air-launched hypersonic weapon. This weapon will allow you to use conventional firepower anywhere in the world at incredible speed.
As you can see, the American officer directly involved in the AGM-183A tests calls the missile a hypersonic weapon. It is noted that we are talking about a prototype.