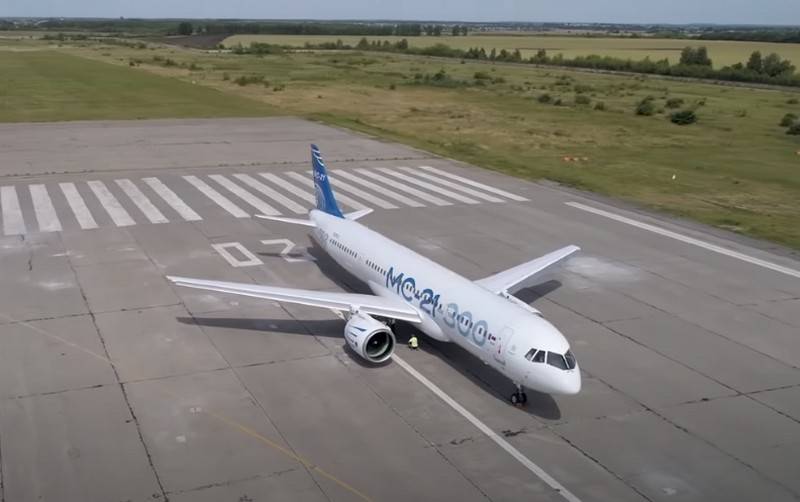 The newest Russian aircraft MS-21 with domestic PD-14 engines will make its first flight before the end of this year. This was announced on August 3 by the general director of the United Aircraft Corporation (UAC) Yuri Slyusar at a meeting with Russian President Vladimir Putin.
Departure of MS-21 with our domestic PD-14, by the end of the year we must complete this work, the necessary tests are underway
- he said.
Currently, the Russian MC-21-300 aircraft is undergoing certification tests with American PW1400 engines. Flights have resumed after a hiatus due to the coronavirus pandemic. In total, in order to obtain a Russian certificate and start delivering an aircraft, customers need to complete 650 flights. At the beginning of this year, the number of sorties was just over 300, tests are ongoing.
Just a few days ago, information appeared that the MC-21-300 had passed tests to protect against water ingress into the engines, which confirmed the possibility of operating the airliner in the presence of water on the runway. The tests were reportedly carried out on the runway of the Ulyanovsk-Vostochny airfield, where a "pool" with a length of more than 70 m and a width of over 20 m was installed, which meets Russian and international standards.
Recall that at the end of July this year, for the first time, a mock-up of the PD-14 engine was carried out on the MS-21 pylons. The engine got to our place without comment. During the installation, the correctness of the design solutions incorporated into the engines was confirmed.
MS-21-300 is a new generation short- and medium-haul passenger aircraft with a capacity of 150 to 211 passengers. Certification of the aircraft should be completed this year, and mass production is scheduled for 2021.