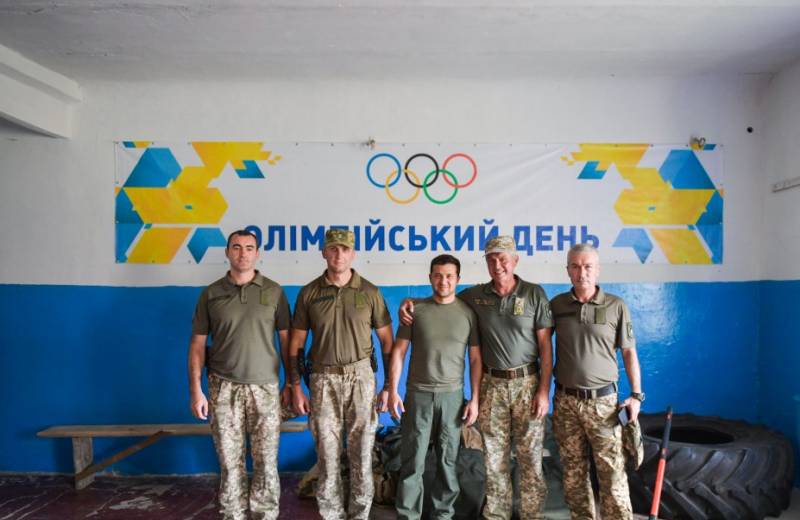 Another loud statement by the President of Ukraine Volodymyr Zelensky is commented on the network. It is dedicated to the future meeting in the so-called Normandy format, which will take place in Berlin. Zelensky published his statement on the Telegram channel.
According to the President of Ukraine, both the Normandy and Minsk formats are very important for Ukraine. If "Normandy", according to Zelensky, made it possible to "develop the logistics of the world", then "Minsk" provides an opportunity to "discuss difficult issues."
Zelensky:
Donbass today is primarily about war (...) But 11 days of silence prove that if everything is done correctly, then there will be a chance. It already exists.
The Ukrainian president reminded the subscribers of his Telegram channel that he once again visited Donbass, "listened to people's statements" and "drove 100 km along the contact line in two days."
Zelensky noted that today there are no major shelling in Donbas, but there are minor provocations.
From a statement by Mr. Zelensky:
Normandy is the starting point for bringing this long-suffering territory of ours back to civilization. Where laws work, where human rights are respected. "Normandy" is the beginning of the freedom of Donbass.
Donbass has already commented on Zelensky's statement. It is noted that if the president speaks about "freedom" and "respect for human rights", whose party rating has fallen three times since winning the elections, and who actually decides nothing in Ukraine, where human rights (including the opportunity to get an education in his native language) are ignored by the authorities of any level, then Zelensky should have dealt with freedom and efficiency of governance in Kiev first.
One interesting comment:
In vain they pounced on Zelensky. He speaks the truth. Donbass is truly returning to civilization. Russian civilization. Without the imposition of "Ukrainianness". In this case, this will be the real freedom of Donbass. From Kiev.
Experts note that after the provocation of the SBU related to Russian citizens in Belarus, Zelensky may have serious problems communicating with Vladimir Putin in the same Normandy format. After all, the special services of Ukraine, having staged a provocation, tried to achieve several goals: to get Russian citizens who fought in the Donbass, and to embroil Minsk with Moscow.