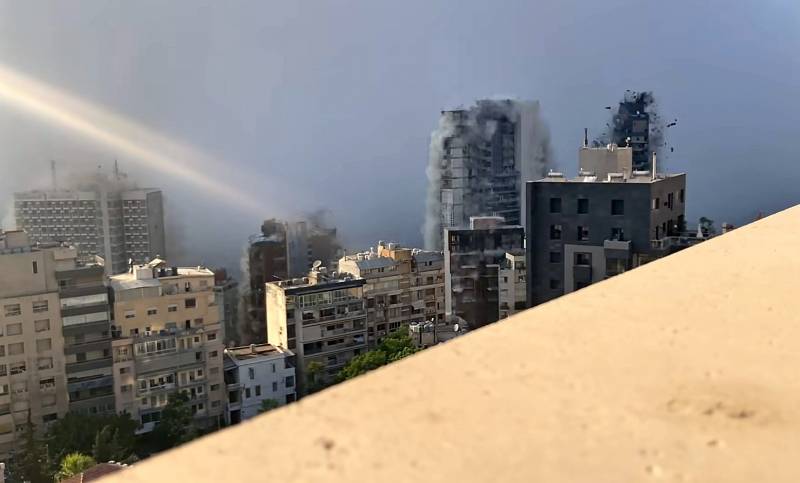 A 9-minute detailed video from the port area of ​​Beirut, filmed on a high-resolution camera, which was located on August 4 on one of the high-rise buildings of the Lebanese capital, appeared on the network. The video shows virtually the entire development of events that day in the main port of Lebanon, right up to the explosion.
It is noted that the fire in one of the port hangars occurred at about 17:35, and at 18:20 the most powerful explosion thundered, which destroyed not only the port of the Lebanese capital, but almost a third of all Beirut, depriving almost a third of a million of roofs over their heads. person.
The video begins by showing relatively little smoke in the port area. Then the smoke becomes more intense.
After a few minutes, flashes can be seen at the epicenter of the fire. The smoke itself begins to change color, you can see an open flame. The camera then gives a detailed "picture" of the propagation of the shock wave from the explosion. The footage shows how this wave, as it spreads, destroys buildings and structures that meet in its path. External structures of multi-storey buildings begin to crumble, windows fly out. Eventually the camera crashes.
Meanwhile, the Middle Eastern and American media published data that just a few minutes before the explosion, a fire brigade tried to open the door of a hangar in which ammonium nitrate was stored. It is assumed that the photo, which "VO" cannot publish due to a copyright issue, depicts firefighters who subsequently ended up on the list of missing persons.