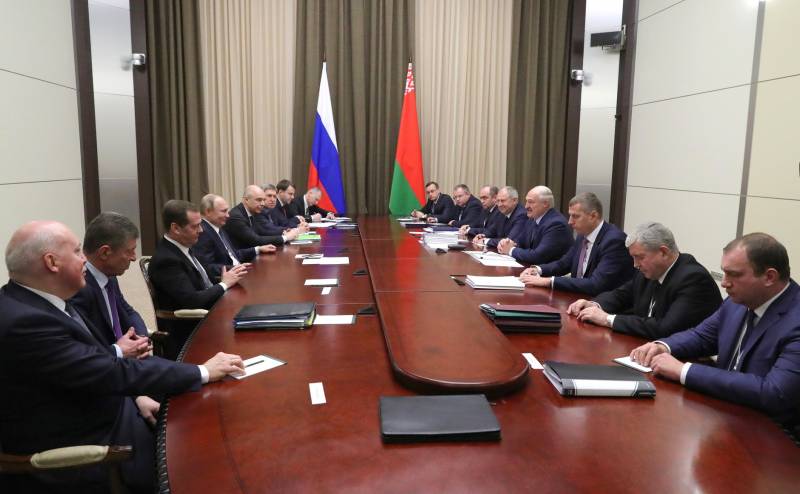 Interesting questions
Considering the problems of relations between Russia and Belarus, it is impossible not to note one characteristic feature: the almost complete absence of "horizontal contacts", informal ties. They do not exist, there is no class. Absent in the political field. And one more thing: Belarusians in relations with Russia like to replace politics with economics and talk about it endlessly, and so, if we consider politics and ideology strictly and strictly, then our surprise will never end.
In this sense, Belarus is strictly oriented towards the West, despite the fact that de facto no one speaks foreign languages ​​and is not going to. And no one really knows even Belarusian, but politically and ideologically the choice was made in favor of the West. Almost like in Ukraine. In order to somehow "blur" this issue, the following tricks are usually used: it is the economy (and only the economy!) That is discussed, as already mentioned, and at the same time numerous conflicts are deliberately provoked.
And, they say, we have such a broad agenda! Well, that's so wide! Incredibly wide! And so it is wide, and so even wider. And you can endlessly discuss it. And at all levels the Belarusians are ready to do it just excitedly ... But if we put aside the shrimp-milk-credit-gas issues, it will be very quickly found out that, in fact, there is no
political
there is no agenda and is not planned. And this is precisely the "main problem" of Russian-Belarusian relations.
The Russian side is primarily interested in political issues, but the Belarusians are not ready to discuss them categorically. Let's first solve all the issues in the field of economics,
but then
… And this song has been going on for twenty-five years. A quarter century of discussion on "economic issues". As a matter of fact, for almost a whole year (2019) a meeting of a certain joint commission on ... various issues of integration lasted.
It ended in nothing. Nothing at all. That is, it was not possible to achieve any visible results. After the fact, Lukashenka's position: yes, this is all nonsense, it's vanity. Let's tackle serious issues: oil and gas. And on loans. And on access to the Russian market. And customs control. This is serious, this is relevant. The Belarusian leadership is ready to discuss these issues.
The trouble is that in and of themselves these very "pressing questions" are not at all interesting to the Russian leadership. Outside of understanding what our relationship actually is? No, of course, "turn on the fool" is an incredibly powerful strategy, but you can't really build interstate relations on this for decades! And when all political issues are parried by "friendship and international law", after which the struggle smoothly flows into the economic parterre. And the Belarusians never leave there.
On this issue, the author is a categorical opponent of the "joint" discussion of economic and political issues, since it gives nothing but confusion. That is, for example, you will never wait for answers to the simplest questions (where did all Russian subsidies go?), But
all
That is, in general, everything, the economic problems of the modern RB are automatically hung up on Russia. It is not clear what independence is here.
Less interesting questions
But if you plunge and plunge into purely modern politics, then everything will immediately become gray, faded, sad and uninteresting. Because everything is absolutely clear and absolutely sad here. There is nothing good and interesting for Russia there, neither in domestic Belarusian politics, nor in foreign.
That is, when the mass distribution of Pole's cards does not raise any questions from the state at all, and three "pro-Russian publicists" are indicatively judged for an incomprehensible reason - this is somehow rather strange. Once again: supposedly the Republic of Belarus is the best and last ally of Russia, let's say, so, some citizens published (under pseudonyms) a number of articles in Russia. And this was the reason for the harshest reaction of the official Minsk. The people were handcuffed and tried.
At the same time, these actions did not meet with any rejection in the Belarusian people: it should be so. And supposedly this is precisely the main threat to the Belarusian sovereignty. At the same time, no one stuttered at all about the "basic European value" - freedom of speech, or friendship with Russia. At the same time and in parallel, the Polish state is actively distributing Pole cards to Belarusian youth (and not only). Tens of thousands are giving out these same cards.
So, just this (!) The Belarusian state is not interested in anything and in any way. This does not raise any questions. I, of course, greatly apologize, but how can you not notice and how can you ignore it? I mean from both Minsk and Moscow? Where, strictly speaking, is Belarus going? Belarusian agitators like to emphasize how tough and straightforward the dad is, how he keeps everyone in his fist and how "you're not spoiled" with him.
It may be so, but even in post-Maidan Ukraine, the distribution of Hungarian passports caused a scandal and an outbreak of nationalism. After all, everyone understands where all this is leading. And in Belarus - nothing, silence. This alone can raise a million questions: what kind of "independent" future is Mr. Lukashenko preparing for his country by 2030? Even if the Ukrainians are sincerely outraged by the actions of official Budapest. And in Minsk, no, "everything is calm."
That is, both completely open Russophobia and quite openly pro-Polish politics do not raise any serious questions in anyone in Minsk. Excuse me, but what do you want to talk to them about? About gas prices? If popular Belarusian newspapers do not publish anything bad about Poland (never!) And nothing good about Russia, then somehow it all falls into place. The Belarusians like to brag that, they say, they did not throw mud at the Union. Well, maybe in the 90s it was so ... but today popular newspapers regularly publish "exposing articles" about "crimes of the Soviet government against Belarusians."
Once again, if we decisively separate those very "economic questions", then our amazement will have no limit. The situation, as it were, immediately and sharply exacerbated and takes on an openly conflicting character. As a matter of fact, even Russians already feel this and automatically switch to "safe" economic issues. These very "economic" arguments, they say, where is Belarus without the Russian market, are frankly annoying. And this, frankly, is scary.
That is all
so
is it bad that it is simply impossible to discuss political issues between Belarus and Russia? So it turns out, or what? Many will disagree with me, but, in general, political issues are somewhat more important than economic ones. Somewhat more prioritized. We get some kind of stupid circus: any attempt to discuss them leads to a very painful reaction of the Belarusian side. There literally nervous breakdowns begin. What about foreign policy issues, what about domestic political issues ...
And what are these Belarusians so "gentle"? What are these constant screams about independence? Why does the political dialogue as such have no place at all? To be honest, this whole integration is a very complex and long topic. And darling. That is, even if some "thirty-first cards" were signed, the matter would not move very quickly. For quite objective reasons.
Anyone who is a little in the subject of Belarus will say directly: there is such a political swamp that even if you sign the first card, or even the thirty-first one, there will be no use.
Won't work
... Everything is pointless and useless. We signed a lot of things with the Belarusians and agreed on a lot of things - zero sense. But even
attempt
to conduct a dialogue with the Belarusian side (almost the entire 19-th year there were negotiations of two delegations on integration) led to nothing but conflicts.
During the year of negotiations, the high sides did not agree on anything, nothing at all. That is, nothing at all, in the literal sense of the word. Once again: the working language is Russian. Negotiations have been going on for a year. No real results.
The funny thing is that in the minds of Belarusians there are "a million unresolved issues" in relations with Moscow, it is clear that "economic". Obsessive ideas that simply keep them awake late at night. I give a tip: the main reason for their unsolvability is the unresolved political issues.
As the Cat Matroskin said: in order to sell something unnecessary, you must first buy something unnecessary. So, for Belarus (as Belarusians themselves like to say), politics is not so important, the economy is important. Well, the flag is in their hands! For Mr Putin, political issues are more important, and this seems to be a reason for dialogue. But no! Somehow it didn't work out.
The political dialogue has not taken place for 25 years. It is just that the Belarusians by "negotiations" mean exclusively economic negotiations. All.
That is, the very "dead end" that arose in the relationship should have arisen
much
earlier. Much. While there was the question of money, there was some kind of "movement", as soon as the question reached big politics, the negotiations got up tight. And, as a matter of fact, the Belarusian side demonstratively refused them (we do not trade in sovereignty!). And what, excuse me, do you trade then? And with whom, if not a secret?