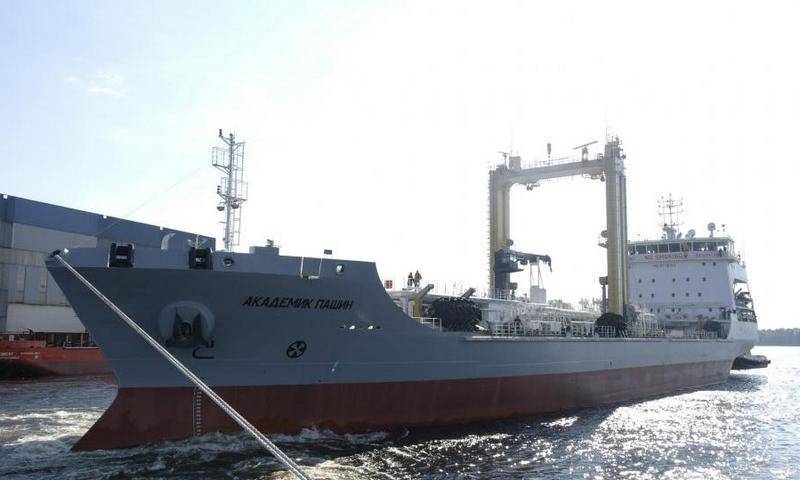 The Ministry of Defense intends to deploy a grouping of Project 23130 sea tankers in the Arctic. The lead tanker of the series has already joined the Northern
fleet
... This was reported by Izvestia with reference to sources in the military department.
The Russian military department plans to replenish the Northern Fleet with several Project 23130 medium sea tankers. The deployment of such vessels will not only supply ships at sea with fuel, but also provide fuel to the coastal infrastructure in the Russian North.
As explained in the Ministry of Defense, the lead tanker of the Akademik Pashinin series entered the Northern Fleet in January this year, the next tanker of this project is planned to be commissioned in 2024, and the entire series of six vessels is to enter the Navy in 2028. Some of the tankers will join the Northern Fleet to operate in the Arctic.
The presence of a group of modern tankers will allow the ships of the Northern Fleet to expand the geography of navigation
- declared in the Ministry of Defense.
The total displacement of the project 23130 tanker is 9 thousand tons. The maximum length is 130 meters, the maximum width is about 21 meters, the maximum draft is about 7 meters. Maximum speed 16 knots. Autonomy 60 days. Crew of 24 people. The cruising range is 9000 nautical miles, and one of the main tasks is the escort of aircraft carriers.
It is a single-deck vessel with a double hull in the area of ​​cargo
tanks
able to walk in the northern latitudes. It can transfer or receive several types of liquid cargo without mooring to another vessel or ship: diesel fuel, fuel oil, kerosene, oil, water, and also accept, store, transport and transfer dry goods (food, skipper and technical property) using the traverse system transfer of goods to the sea. It can be used to eliminate emergency oil and oil product spills.