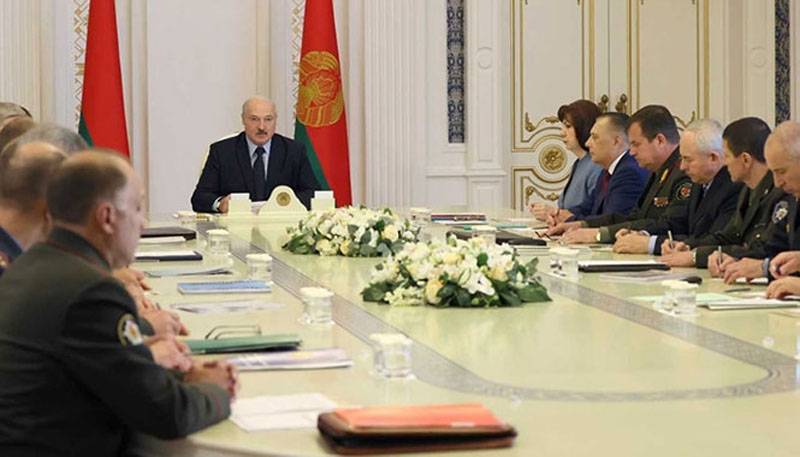 The President of Belarus, who is currently also a candidate for the presidency of the republic, once again spoke about the arrest of Russian citizens. We are talking about 33 Russians who were detained in the republic a few days ago, accused of "preparing for destabilization."
A new statement by Alyaksandr Lukashenka is dedicated to how the situation with the detention of Russians is reacted outside Belarus.
Speaking at a regular meeting dedicated to security issues in the upcoming presidential elections, Lukashenka said that "we should not be frightened with the consequences."
From the statement of the Belarusian leader:
We know about the consequences. We do not need to frighten us either by the Americans or by NATO. If it comes to that, it was not the Americans or NATO who sent these 33 people here.
According to Lukashenka, "many are already whining and squeaking about the detention of Russian citizens."
President of Belarus:
No need to squeak into the TV. The box won't help here.
Experts believe that this attack is directed at the Deputy Chairman of the Security Council of the Russian Federation Dmitry Medvedev, who spoke out on the detention of Russian citizens in the Minsk region.
According to the Belarusian president, Minsk will act in full compliance with the law and "on the basis of humanity."
At the same time, the President of the Republic of Belarus ordered to invite the prosecutors general of Russia and Ukraine to the country:
If they don't come, we'll solve everything without them.
Lukashenko said that the state has enough resources to protect citizens during elections.
Recall that some time ago, Ukrainian journalist Dmitry Gordon, who interviewed Lukashenka, said that he was ready to extradite the detainees "to both Russia and Ukraine."