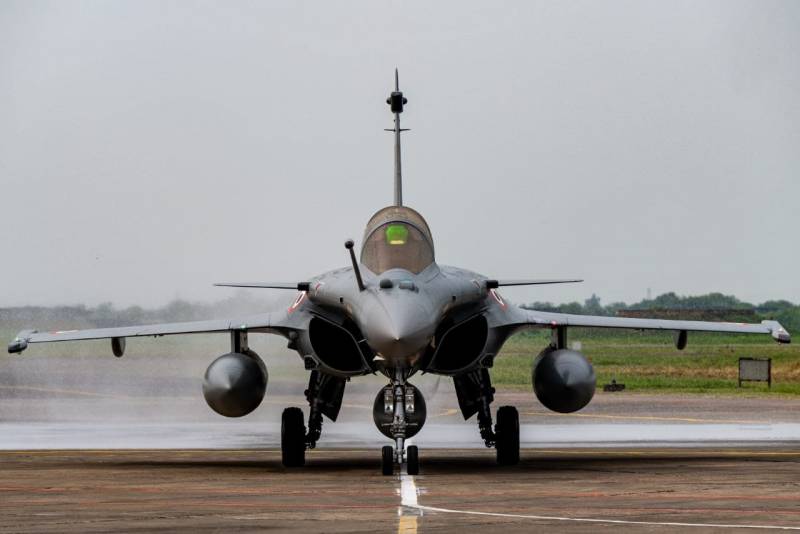 The euphoria continues to reign in India's defense ministry and pro-government media over the receipt of five Rafale aircraft from France. Recall that the contracted fighters arrived at the Indian Air Force Ambala on July 29. Since then, literally every day from Indian high-ranking officials, journalists, military experts, statements have been made either about a "radical change in the power component" or "the beginning of a clear superiority of the Indian armed forces over the armed forces of China."
Oppositional Indian politicians and their sympathetic media in India are not ready to support these interpretations. It is noted that all these claims of "superiority" in India are being replicated by pro-government forces with one single purpose: to justify a deal that is extremely costly for Indian taxpayers.
With enthusiastic exclamations about Rafale, the Ministry of Defense is trying to justify the excessive cost of this deal.
It is recalled that each French "Rafale" with weapons and maintenance to the Indian treasury cost about $ 217 million. As noted by the Indian opposition, no one argues that the Rafale are excellent fighters, but it is unjustified to shell out such huge sums for these aircraft.
In this regard, the Indian authorities were once again accused of a possible corruption component of the deal with the French.
The strangeness of the actions of the Indian Ministry of Defense is also noted: why for the third year the department has not decided in any way on which fighters to buy for the modernization of the aircraft fleet. Recall that the Indian Air Force intends to receive more than a hundred new fighters.
The selection list is as follows: the same French Rafali, Swedish JAS 39 Gripen, American F-18, Russian MiG-35 and Su-35. The Indian Ministry of Defense is still unable to determine for itself which aircraft it is ready to purchase for its Air Force.