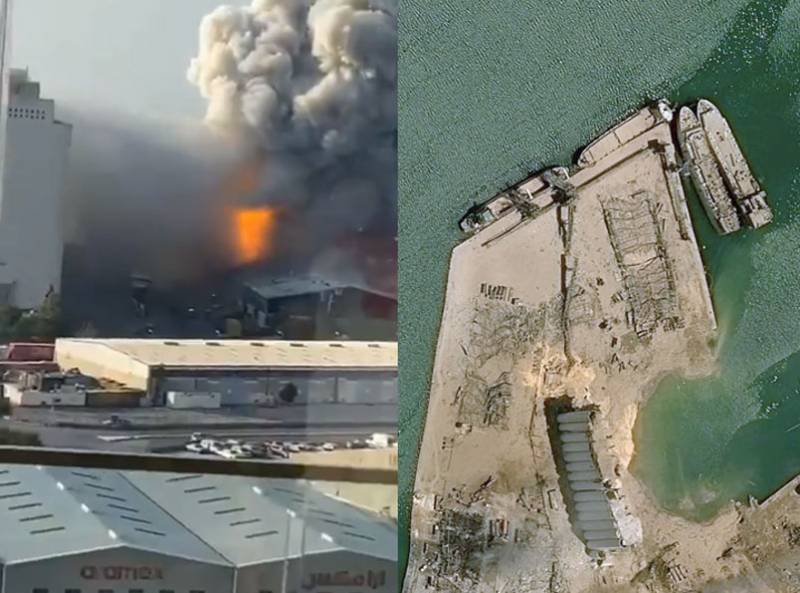 British experts decided to conduct a study of the parameters of the explosion that thundered the day before yesterday in the Lebanese capital. Scientists from the University of Sheffield said that after analyzing the video footage of the incident in Beirut, they started calculating the power of the explosion.
It is stated that using the method of mathematical modeling, they found that the explosion in its power corresponds to about 1,5 thousand tons of TNT.
From a statement by British scientists:
This corresponds to a tenth of the power of the explosion that took place in Hiroshima in August 1945.
By the way, today, August 6, the world remembers the drama that took place in the Japanese Hiroshima. Exactly 75 years ago, the American B-29 bomber "Enola Gay" dropped the atomic bomb "Little Boy" on the city with a capacity of about 15 kilotons of TNT.
According to the head of the research group of the University of Sheffield Andy Tias, the explosion in Beirut "is estimated as one of the most powerful non-nuclear explosions of man-made origin in
stories
».
After explosions picture near port in #Beirut #Lebano #Fireworks #thursdayvibes pic.twitter.com/NEvIMovSZR

- Jasleen kaur (@ Jasleen_Kaur11) August 6
Meanwhile, the Western press recalled a considerable number of examples of the explosions of ammonium nitrate and other chemical substances in the XX and XXI centuries. In particular, ammonium nitrate exploded at a chemical plant in the German Oppau in 1921. Then, according to official figures, 561 people died. Exploded 2100 tons of ammonium nitrate (ammonium nitrate) in the port of Texas City (USA) in 1947 - 581 victims of the explosion. Similar explosions rang out in China and Iran.
In the meantime, stills continue to be published, in which (and from different angles) one can see how a certain object flies up to the place of fire at high speed, after which a powerful explosion is heard.
When discussing the shots on the network, some are sure that this is conspiracy and video editing, while others believe that it was an ammunition fired at an ammonium nitrate storage facility.