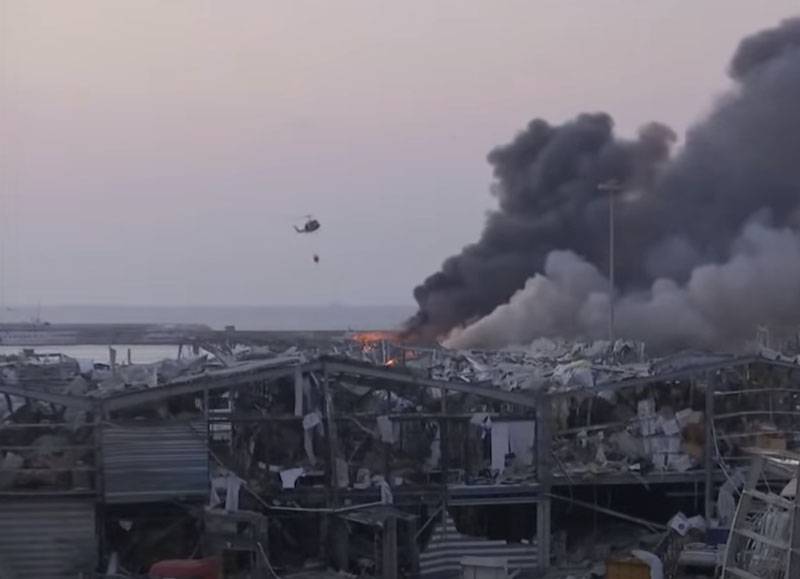 Israeli satellites took photographs of the port of the Lebanese capital, which can be used to assess the scale of destruction from the explosion that thundered the day before. ImageSat International, which operates spy satellites, provided the editorial office of one of the Israeli media with photos that allow you to see the destruction from a "space" height.
The images are published by the News.co.il resource.
The picture shows that the explosion completely destroyed not just part of the infrastructure of the port of Beirut, but part of the berthing line. The indicated scales indicate that the explosion completely destroyed a part of the port cluster about 70 m in diameter. This is precisely the epicenter of the explosion.
In addition, buildings and structures were destroyed in Beirut, including bridges and other infrastructure facilities within a radius of several hundred meters. According to the latest data, about a third of a million people were left homeless.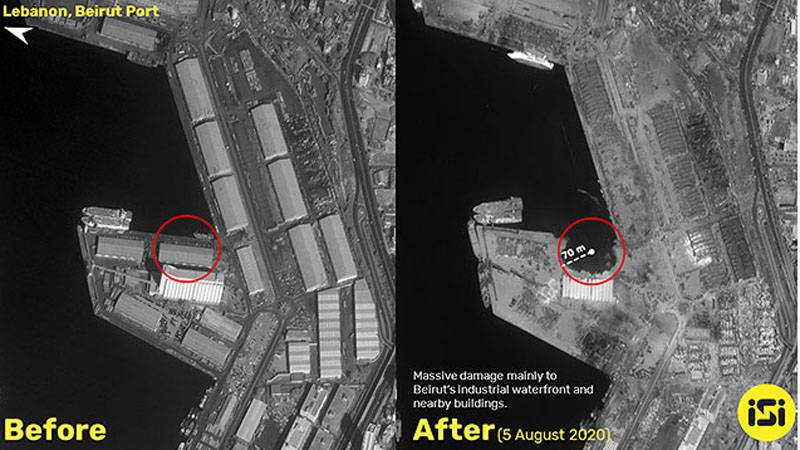 Given such devastation, claims that the death toll is close to 100 seem to be an understatement. Hundreds of people can remain under the numerous rubble.
Meanwhile, sources in the Lebanese government say that a fire at the 2,7th port warehouse led to a powerful explosion of 9 thousand tons of ammonium nitrate. It was there, according to unconfirmed data, that welding work was carried out.
After some time, the fire that broke out at the 9th warehouse spread to the 12th warehouse. It was there that the saltpeter confiscated several years ago was stored, which was transported from the Georgian port of Batumi to one of the African states. The dangerous cargo was confiscated in Lebanon, but nothing better than leaving it in the port, where some work is constantly being carried out (including construction and repair, associated with risk), they did not come up with.
Now a case has been initiated for negligence in the storage of explosive substances. The whole question is who will be in the dock after the incident, as a result of which a large part of the Lebanese capital was demolished.
Trying to absolve himself of responsibility, the head of the Lebanese Customs Service said that he had filed six lawsuits with the courts about the need to move the explosive cargo to a safe place. But there was no reaction, he said. Now it is proposed to "ask" the Lebanese port administration why it did not take care of the transportation of saltpeter. But the port administration says that it was not part of their competence to handle such cargo. In other words, they are trying to shift the blame on each other.
Video of elderly Lebanese woman at her home playing the piano while surrounded by broken glass and rubble, captures the spirit or #Beirut.

This city doesn't give up and keeps rising from the ashes: pic.twitter.com/FUp1fuTGQK

- Joyce Karam (@Joyce_Karam) August 5