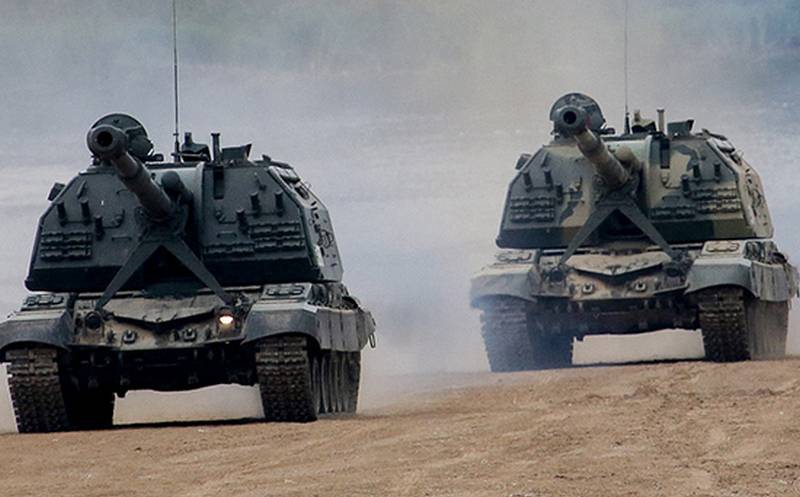 The Ministry of Defense has received a new batch of modernized 2S19M2 Msta-S self-propelled howitzers. Self-propelled guns have been modernized at the Uraltransmash enterprise as part of the 2019-2021 government contract. This was reported by the press service of Uralvagonzavod (UVZ).
Dmitry Semizorov, Director General of Uraltransmash JSC, reported to Russian Defense Minister Sergei Shoigu on the delivery of the latest modernization of self-propelled Msta-S howitzers to the Russian army. 152-mm self-propelled howitzer 2S19M2 is a combat tracked vehicle that meets all the requirements for modern artillery
- said in a statement.
The number of modernized self-propelled guns in the party is not reported. It is noted that this is the second batch of Msta-S self-propelled guns supplied by Uraltrnsmash. In the spring, two batteries from the 49th combined-arms army of the Southern Military District were re-equipped with modernized self-propelled guns.
As the press service explained, the advanced MSTA-S self-propelled guns have significant design differences from the previous modification of the artillery installation: they have a new automated fire control system that can significantly increase the rate of fire, there is the possibility of using digital electronic maps, which significantly speeds up orientation on the ground.
152-mm ACS "Msta-S" is equipped with a programmable charging complex. The maximum firing range is 29 km. Ammunition - 50 shells. Speed ​​- up to 60 km / h, power reserve - more than 600 km. Upgraded SAUs can fire with high-explosive, active-rocket jamming projectiles, as well as Krasnopole precision-guided munitions.
The 152-mm Msta-S howitzer entered service in 1989. Designed to destroy manpower, tactical nuclear weapons, artillery batteries, armored vehicles, anti-tank weapons and air defense weapons, as well as to destroy field fortifications and enemy command posts. Fire can be conducted on observed and unobserved targets from closed positions and direct fire. When firing, both shots from the ammunition rack and those supplied from the ground are used.