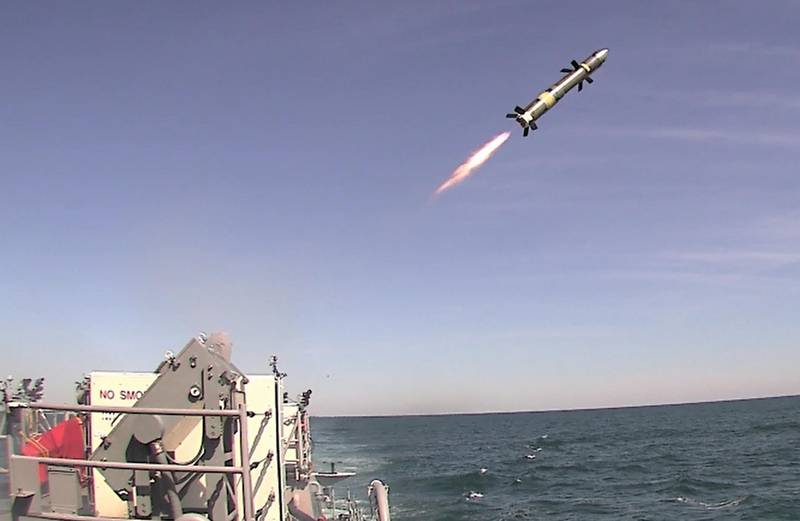 The command of the Naval Forces of Ukraine intends to strengthen the combat potential
fleet
foreign-made anti-ship missiles. This was reported by the Ukrainian military news agency "ArmiaInform".
Foreign anti-ship missiles will have to strengthen the Ukrainian fleet until the adoption of the naval version of the Ukrainian anti-ship complex "Neptune", which is still under development. We are talking, first of all, about the supply of American anti-ship missiles, which was announced last year.
Against this background, information appeared that the US authorities are considering the possibility of installing on the Mark VI patrol boats, which will be transferred to Ukraine, short-range missile systems, that is, small anti-ship missiles of the BGM-176V Griffin type.
At the same time, the Ukrainian military emphasize that American missiles of the ВGM-176В Griffin "in no case" will compete with the domestic anti-ship missiles "Neptune", since they are "in different niches of combat use."
They have different characteristics and purposes. The Griffin missiles are supposed to protect the coastal zone, and the geography of the Neptune application up to 280 km is the waters of the Azov and Black Seas, including the exclusive (maritime) economic zone of Ukraine
- writes the edition.
For our part, we note that the boat complex with missiles Griffin B has the designation Mk 60 and was developed jointly by Raytheon and the US Navy. The complex, in addition to launchers, includes the FLIR Systems BRITE Star II electronic-optical detection, targeting and illumination system. Rocket length - 110 cm, diameter - 140 mm, rocket weight - 20 kg, warhead - 5,9 kg.
The Ukrainian newspaper writes that the firing range of "Griffins" is 20 km, but in reality this is not the case. When launched from the installation located on the boat, the firing range does not exceed 5,5 km. The rocket can reach a range of 15-20 km when launched from an aircraft carrier, and even then it depends on the altitude of its launch. Initially, this rocket was designed exactly as
aviation
air-to-surface weapon.