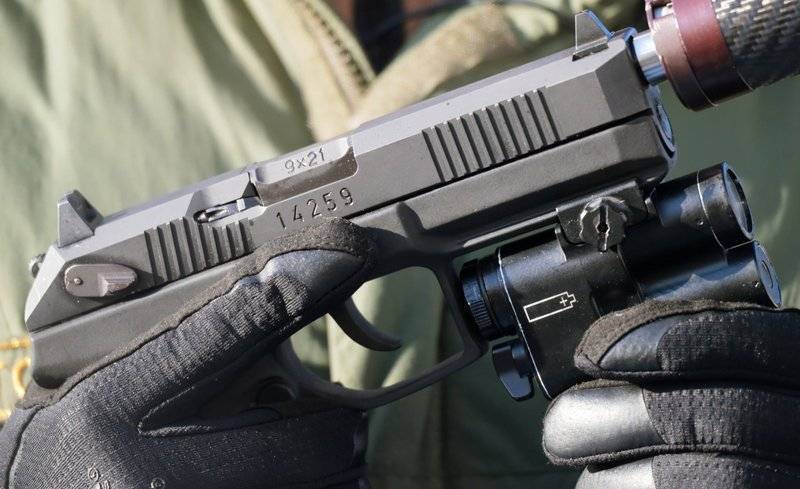 Serial production of the self-loading 9-mm pistol "Udav" developed by TsNIITOCHMASH has started in Russia, the Ministry of Defense has ordered the delivery of the first batch of serial pistols. This was reported by the Rostec press service.
The customer for the development of the pistol is the Russian Ministry of Defense. Earlier it was reported that the military department has begun trial operation of the Boa pistol in the army.
Work on the "Boa" complex (...) moved to the stage of mass production. This suggests that the armed forces have tested, made recommendations and suggestions for finalizing the rifle complex, which have been fully implemented by our enterprise. An order has been received for the first production batch (...)
- said the general director of TsNIITOCHMASH Albert Bakov.
The self-loading pistol "Udav" is a completely domestic development; only Russian components are used in its design. Among the patented technologies is the design of the magazine, which is an indicator of the number of cartridges, which, both visually and tactilely, allows you to determine a fully loaded magazine. The pistol uses two types of ammunition (increased armor penetration and silent firing), specially designed for it.
The 9-mm self-loading pistol SP has an effective firing range of up to 100 m, and is also capable of penetrating second-class personal protective equipment at a distance of up to 75 m. It remains operational in the temperature range from minus 50 ° C to plus 50 ° C. The weight of the "Boa constrictor" with a magazine (without cartridges) is only 780 grams, its length is 206 mm, and its height is 145 mm. Magazine capacity - 18 rounds 9X21 mm. Warranty pistol operating time - 10 shots
- said in the message of "Rostec".