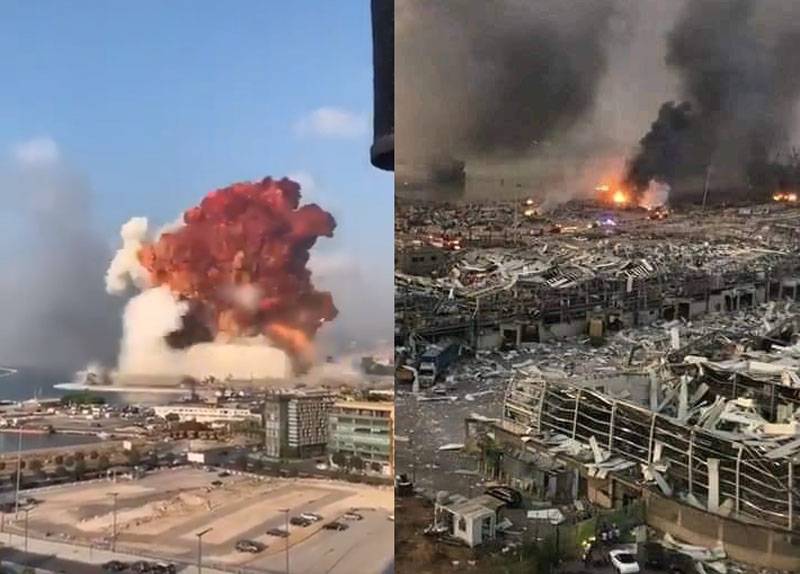 Lebanese authorities have declared the country's capital a disaster zone. As Voennoye Obozreniye has already reported, on August 4, a huge explosion of power thundered in the port of Beirut. Since it all started with the appearance of smoke, the explosion that followed hit many cameras of mobile phones and was immediately in different angles.
As local residents write on social networks, the explosion was so powerful that it demolished concrete structures as if they were paper. An entire area of ​​Beirut was turned into scorched ruins by the explosion.
At the moment, the preliminary reason for such a powerful explosion that shook Beirut has been announced.
#Beirut #Lebanon # بيروت

Family in house in a building during the explosion, kids shouting we don't want to die .. pic.twitter.com/qbhk5zzoKg

- Antonio Mc (@ Tony63487978) August 5
The Lebanese government says that about 2,7 thousand tons of one of the types of saltpeter exploded in the port of the capital. According to some reports, we are talking about ammonium nitrate. It was noted that the explosion thundered during welding.
From the report:
Workers were filling holes in the structure through which the abduction could take place. Then an explosive detonation occurred.
But the American president does not consider the explosion in the port of Beirut a tragic accident. According to Donald Trump, he, like a number of American generals, adheres to the version that this was an attack.
Trump:
This is not a production explosion. This is a terrible attack. We are ready to render assistance to Lebanon.
Meanwhile, a report was released on CNN, where, citing sources at the Pentagon, literally the following was stated:
The information about the attack on Beirut is untrue. We don't know what the president is talking about. If someone decided to carry out such a large-scale terrorist attack on Lebanon, then the US troops would already be on alert in the region.
Marwan Abboud, commenting on what happened in the Lebanese capital, could not hold back his tears. According to him, "it is reminiscent of Hiroshima and Nagasaki."
Head of the Lebanese capital:
I've never seen destruction on this scale.
Beirut Governor Marwan Abboud cries as he explains to a journalist the scene of the destruction due to the explosion.

I'm crying for this.#PrayForLebanon #PrayForBeriut pic.twitter.com/8YmdVodx5i

- Winiw (@winiwiliy) August 5