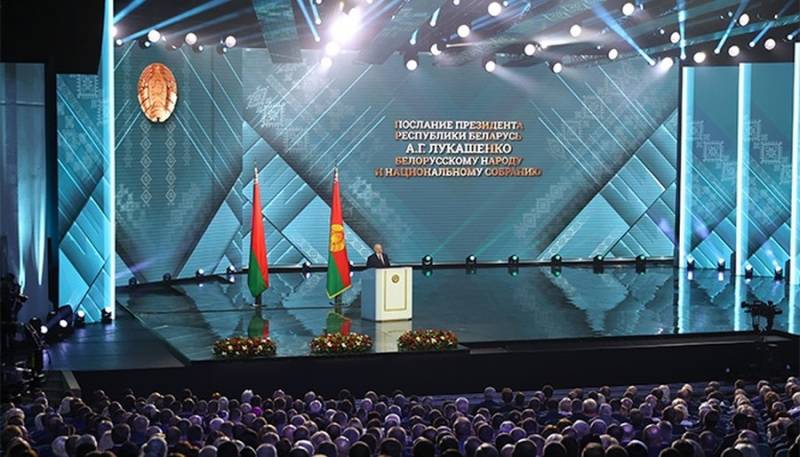 Views on reality. More than one
As a matter of fact, it is not for nothing that the Americans actively impose their vision of the world and their view of it. And allies, and everyone else. Because only very narrow-minded people do not understand that there can be more than one views on reality, and even more than two. And quite often they are incompatible.
You can productively argue about something, being exclusively within the framework of one paradigm. If one of the disputants reflects on the reasons for the collapse of the USSR and the advantages of socialism, and the other sincerely admires the monarchy, then most likely they will not have a productive conversation. Can an ordinary person
simultaneously
to look at the problem from different points of view? More often than not, no. And even Dr. Watson is not.
It is much more convenient for a normal person to live and act within the framework of one paradigm. Otherwise, a "brain twist" may simply happen. That is, if within the framework of this very familiar and familiar paradigm a person is still ready to look at something wider (far from everyone), then going beyond it is an extremely difficult and painful trick.
As a matter of fact, this is what makes any conversations with Belarusians or Ukrainians on general political topics rather meaningless. They already have a completely different paradigm. They look at this world differently. This is neither bad nor good, it is a fact. And by the way, yes, an ordinary person is not obliged to independently build their own picture of the world, starting from the atom and ending with the Universe. You know, it's too complicated.
Most often we get this very "picture of the world" ready-made. Like a cheeseburger. Therefore, it makes no sense to explain about "gas, oil, market, defense ..." to an ordinary person. Self-creation of a complete picture of the world for his brain is often an impossible task. If you don't believe it, experiment with your friends and coworkers. Just don't go too far. By the way, the success of various sects, scammers and manipulators is based on this. Ostap Bender is just a marker of the limited rationality of the majority of citizens. "Crooked in the land of the blind." Almost a king.
Unfortunately, the majority of the population is looking for ready-made answers, rather than trying to answer difficult questions. No matter how ridiculous it may sound, we do not fully realize it, because we live in an "anomaly". As is known from
stories
"Cold War", propaganda worked on both sides of the Atlantic, but it really worked effectively in America, but not in Russia. Which had both pros and cons. Americans really didn't like Russians and they continue to do so. And why? But because propaganda. It is extremely difficult for us to understand this, we are different, but they are not. They are just normal. And they sincerely believe everything that is "written on the fence."
This is precisely the difference between Russia and Belarus or Ukraine. We just can't figure out that
there
propaganda works and people believe in it. We rely on our own experience, and it is not just not universal, it is unique. We can look at the government's propaganda from the outside and expect the same trick from Ukrainians and Belarusians. But no, there is a very standard reaction there: once they said on TV that Russia is an enemy, then Russia is an enemy.
And people quite sincerely begin to hiss towards Russia. You know, sometimes hypnotists on stage instill various funny things in a person, such as that he is a horse or even a dog. Etc. And the person begins to behave accordingly. It is unpleasant, of course, to regard an adult educated person as a programmed robot, and a set of such people as an automated system, but, oddly enough, this model describes modern society well.
By the way, even on the example of Ukraine, it was noted that there were two parallel systems in the head of the "Svidomo Ukrainian". The first is correct, ideological: Ukraine goes to Europe, "Maidan" is the greatest victory, and the difficulties are temporary. And at the same time, people are equipped with a second, parallel system of thinking that is in no way connected with the first, which allows them to somehow survive in the terrible conditions of "post-Maidan", right up to part-time work in "enemy Russia". Unlike the era of socialism, they
sincerely
believe in European values ​​(official ideology). And real life, where you have to survive, is separate.
Therefore, millions of Ukrainian guest workers who earn in Russia,
in no way
did not affect the picture of the world in Ukraine. It is useless to wait for them to compare one with the other. To beat them with facts is also useless. Alas. Their head does not work for matching. They don't know how. An ideological picture in finished form is loaded into their wise heads from the Ukrainian media, and it is useless to debate here. Reality either affects this picture very weakly, or does not affect it in any way. Feeling sorry for them is also pointless.
Belarusian example
But this tendency manifested itself most clearly and vividly in the case of brotherly Belarus. The mistake of the majority of Russian observers is the obvious idea for them that the Belarusians (Russian-speaking and visa-free to Russia) will see everything themselves and draw the correct conclusions themselves. And they will simply laugh at the "stupid anti-Russian propaganda."
Somehow they didn't do it well. Rather, it did not work out at all. We compose a picture of the world around us in very different ways, that is, the Russian approach "based on facts and use logic" is somehow of little interest to anyone. Belarus is a very interesting example of the triumph of ideology in a vacuum, ideology that has nothing to do with reality at all.
The entire Belarusian economy is tied to Russia, and the entire Belarusian ideology is tied to the idea that the main value is independence (from Russia!), And the main enemy is empire. The funny thing is that for some reason no one in Belarus pays attention to some "small" contradiction inherent in the very basis of the existence of the Belarusian society and state.
And because they (as well as in Ukraine!) Have two completely separate systems of "thinking". Ideological and practical. And they are not related to each other. It is rather difficult for us to understand this, but Belarusians and Ukrainians are actively trying to make money on a country for which they do not harbor particularly warm feelings, without feeling any remorse. Business is separate, friendship is separate, something like that. This is quite natural for them. And people are already completely different.
For us, the attempts of Belarus to receive huge volumes of cheap oil from Russia and feed the Bandera people with diesel fuel obtained from this oil look wild and immoral, but this is for us. They already have a different morality and a different logic. They are not like us. This must be understood. From their point of view, Russia delivers oil cheaper, because "it owes it and it is very profitable for it," but oil products obtained from oil are already the full property of Belarus, which should not be accountable to anyone for their deliveries. And according to intergovernmental agreements, it should not supply gasoline to the Russian Federation either, because "it is not profitable."
Brain twist
That is, we just cannot understand each other due to the fact that, although we speak Russian, we understand the reality around us in very different ways. In about the same way, an adequate dialogue between a Darwinist and a creationist (or a monarchist and a Stalinist) is impossible. They will only quarrel. Too different initial concepts. Belarus, as it were, chose a "very own" concept, it is quite convenient for them inside it, but it practically does not fit with the Russian one. Spherical in a vacuum "socialist idealists-unmercenaries" who want to live comfortably at the expense of "gangster oligarchs-yacht owners". And such an ideology. Ideology, as already mentioned, is a ready-made program for the brain, which does not provide for self-reflection.
Agree, Belarus received 24 million tons of cheap oil from the Russian Federation. At below market prices. She received nothing from Poland except threats. Result: Poland - Eldorado and a role model (admiration), Russia - the main object of fear and hatred in Polesie. Well, yes, and we owe our ally a lot, and it is very beneficial for us ourselves. That is, they (in Eastern Europe) ideology can exist completely completely separate from reality. And people believe in it, and then they try to survive on the ruins.
That is why it is absolutely senseless to offer something to Belarusians or Ukrainians in the economic sense. All the buns will be eaten, but we won't get any thanks from them. According to their magical ideology, these same buns are simply put to them for the very fact of their existence on this planet.
Some of the same Belarusians are sincerely outraged by the "annexation of Crimea" and the lack of supplies of hydrocarbons in the volumes they want at their desired prices. And there, and there, the indignation is absolutely sincere, there is no falsehood here: two levels of thinking, not connected with each other. The ideal of the Belarusian public consciousness: every Belarusian in the morning receives an envelope with dollars from Putin as part of fraternal integration, and in the evening, in a rage, tears his portrait on the square in the course of the fight against Putin's creeping aggression ...