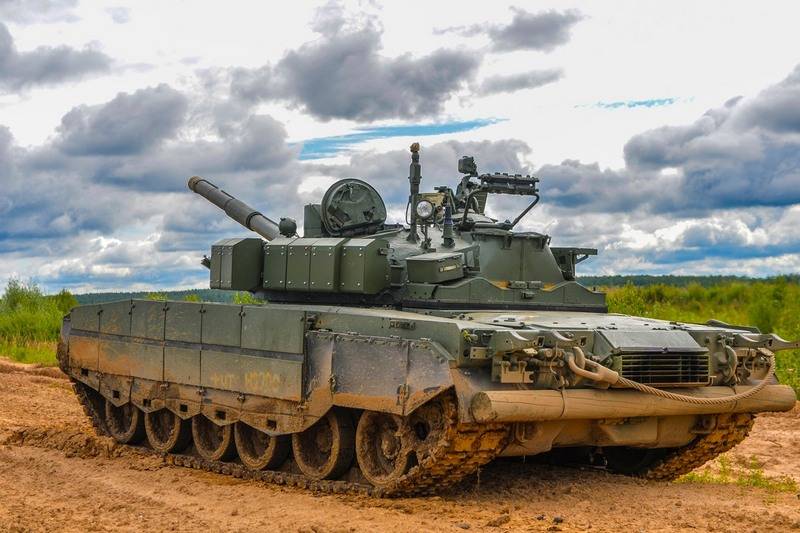 The Western Military District continues to receive modernized
Tanks
T-80BVM. According to the press service of the district, another batch of tanks entered the Kantemirovsk division.
According to the report, 10 modernized T-80BVM tanks were transferred to tankers at the Alabino training ground in the Moscow region. It is emphasized that the division is completely ready for the operation of the modernized vehicles, since this is already the second batch of T-80BVM tanks that entered service. In total, today, taking into account the new tanks, the division has 20 modernized MBT T-80BVM. Most likely, a battalion set of modernized vehicles will be delivered to the division.
The command of the division noted that live firing of the crews of the modernized tanks will be held this week.
The T-80B tank and its modifications were produced at Omsktransmash JSC from 1979 to 1991 a year. The latest modification was the T-80BV tank, adopted by the Soviet army in the 1985 year. MBT T-80BVM - a new version of the modernization of the tank, developed in Omsk.
The tank is equipped with a modified 1250 hp gas turbine engine, which can reach speeds of up to 70 km / h. The vehicle is equipped with a 125-mm cannon capable of firing guided missiles, a multi-channel sight, a weapon stabilizer, and a driver's observation device. The tank is protected from fire by a complex of modular reactive armor.
In Soviet times, more than 10 of thousands of T-80 tanks of various modifications were produced. Currently, 3 thousand "eighty", which are considered a strategic reserve in case of war, is located in military warehouses. The decision to de-arm part of the tanks and modernize it was taken by the Ministry of Defense in 2016.