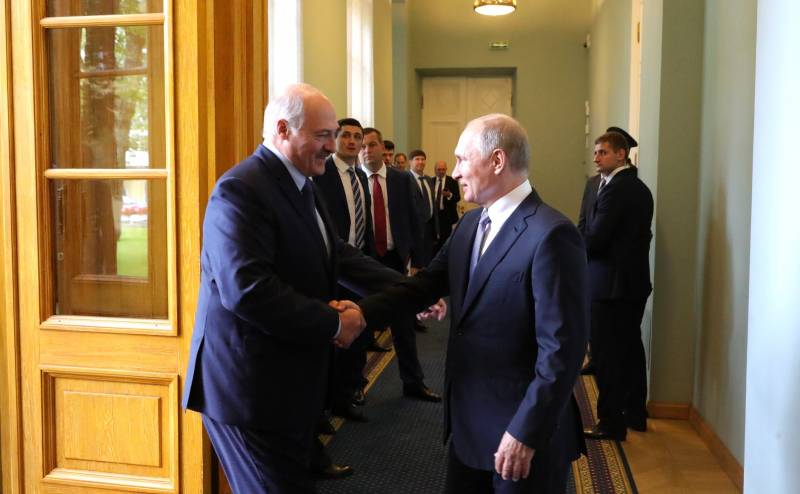 Today the President of Belarus Alexander Lukashenko will address the citizens with an appeal. This upcoming address of the Belarusian leader attracts attention not only in Belarus and Russia, but also in a number of foreign countries. In fact, Alyaksandr Lukashenka himself fueled this interest in the appeal and in future elections. Warmed up by the detention of Russian citizens, who are now accused of "preparing provocations and riots during the election campaign."
The German newspaper Die Welt writes that the Belarusian president "demands explanations from Putin after the arrest of Russian mercenaries." German journalists relish the statement of Lukashenka, who actually accused Russia of "dirty intentions". But the same publication notes that the video recordings of the detention of Russians in a Minsk sanatorium look silly. The statement of the political scientist is cited that "if 33 Wagnerians were really going to start riots, they would definitely not move around Belarus in camouflage uniforms, in T-shirts with the inscription" Russia "and certainly would not stop in a large group in one place".
They even comment on the situation in the Japanese press. Asahi Shimbun writes that "candidate housewives in Belarus have decided to throw the last dictator of Europe out of his seat." At the same time, to explain to his readers what kind of country Belarus is, the Japanese author uses the phrase "a small state to the west of Russia."
The Japanese author writes that "initially Lukashenka was elected by the will of the people, as he talked about building a socially just state".
From the material:
The problem is that Lukashenka kept his administration, reproducing the stereotypes of the 1990s, but not adapting to the requirements of the new era, and as a result, Belarus's development potential was lost.
At the same time, the author attributes to Lukashenka's merits that Belarus "avoided the upheavals of neighboring Ukraine".
Now, as the Japanese press writes, Lukashenka is facing "problems" before the elections. In particular, it is noted that modern Belarus economically completely depends on Russia. At the same time, the article notes that Lukashenka considers "Russia is ready to destabilize the situation in the republic." But even a Japanese author writes about this:
It is unlikely that Putin is going to shake Lukashenko today. Indeed, for Russia, Belarus's transition to a pro-Western course is the worst option, since it sees this in Ukraine.
The French media are openly bewildered why Minsk needed to spoil relations with Moscow, which is in fact the main ally of Belarus. French experts believe that this is how Lukashenko, perhaps, "demonstrates that he is independent - from anyone, including Russia."