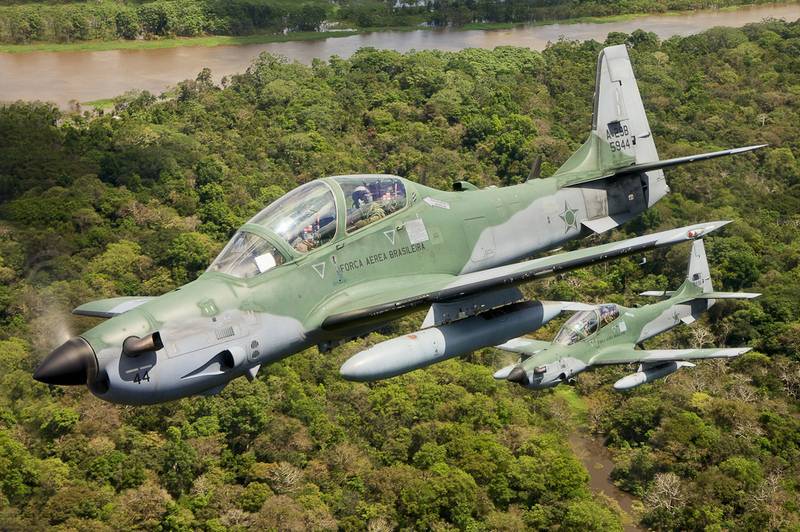 In the framework of the XII International Aviation and Space Salon "Aviasvit XXI", which will be held in Kiev from 13 to 16 October 2020, the Brazilian aircraft company EMBRAER will take part for the first time. According to the press service of the air show, the Brazilians can bring their famous Embraer EMB-314 Super Tucano turboprop attack aircraft to Kiev.
Ukrainian and international military experts are wondering if the Brazilians bring their attack aircraft to the exhibition, whether the Ministry of Defense of Ukraine will raise the issue of purchasing Embraer EMB-314 Super Tucano for the country's air force. Earlier, the military department has repeatedly stated its interest in the Brazilian attack aircraft.
In early August 2019, a delegation of the Ukrainian Air Force, headed by their commander, Colonel-General Sergei Drozdov, arrived in Brazilian São Paulo, where it held talks with the leadership of the military division of the Brazilian company Embraer about the possibility of acquiring Embraer EMB-314 Super Tucano turboprop combat trainers. In October of the same year, a group of Ukrainian pilots flew Brazilian attack aircraft in Portugal.
However, it is possible that the Ukrainian Air Force will not purchase Brazilian attack aircraft. According to the latest data, the Ministry of Defense of Ukraine is also considering the option of purchasing Pakistani JF-17 Block III fighters.
Recall that Ukraine has adopted a program for the modernization of the country's air force for 2021-2035. For this period
aviation
should completely get rid of the already obsolete MiG-29, Su-27, Su-24M, Su-25, Su-24MR of Soviet production and adopt a "modern" fighter. Several options are considered as the main candidate, but the Swedish Saab JAS-39E / F Gripen and the American F-16 Block 70/72 are called more preferable for the country's Air Force. In total, it is planned to purchase from 72 to 108 fighters.