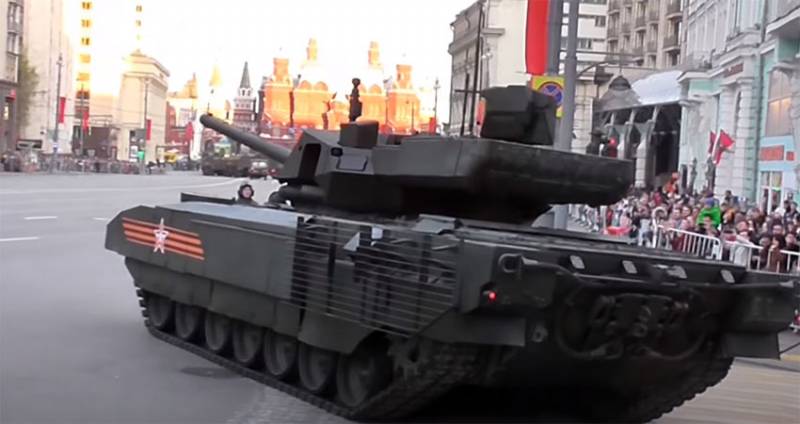 The problem with engines for the Russian newest
tank
The T-14 "Armata" has been resolved, and the developers also figured out the issue of thermal imagers for the tank. The head of the Ministry of Industry and Trade of the Russian Federation Denis Manturov told about this in an interview with TASS.
Answering the corresponding question from the journalist, Manturov said that today there are no problems with the engine and thermal imager for the T-14 "Armata" tank. A thermal imager from the Russian company "Shvabe" is installed on the machine, he did not explain anything about the engine, confining himself to a statement that the power plant meets the characteristics requested by the military.
Yes. Issues concerning both engines and thermal imagers have been resolved. The engine produces exactly those parameters, technical characteristics that were laid down in the TTZ during the design. As for thermal imagers, I can say with confidence that we have a completely import-substituted Russian product, which is produced by Shvabe
- the minister said.
Recall that in early February, some Russian media wrote about a problem with the engines for the T-14 Armata tank. It was reported that the development of a diesel engine within the framework of Chaika R&D was closed, and the engine developer, the Chelyabinsk Tractor Plant, officially announced:
(...) putting the developed engine into serial production due to its flaws and technically unattainable parameters is inappropriate
If the development of a new X-shaped engine for "Armata" was still stopped, what kind of engine is Manturov talking about? It is possible that a modification of the "eternally alive" B2 will be installed on the tank, since there are no other options, but what characteristics will it give? In general, after this statement, even more questions arose for the developers of the tank.