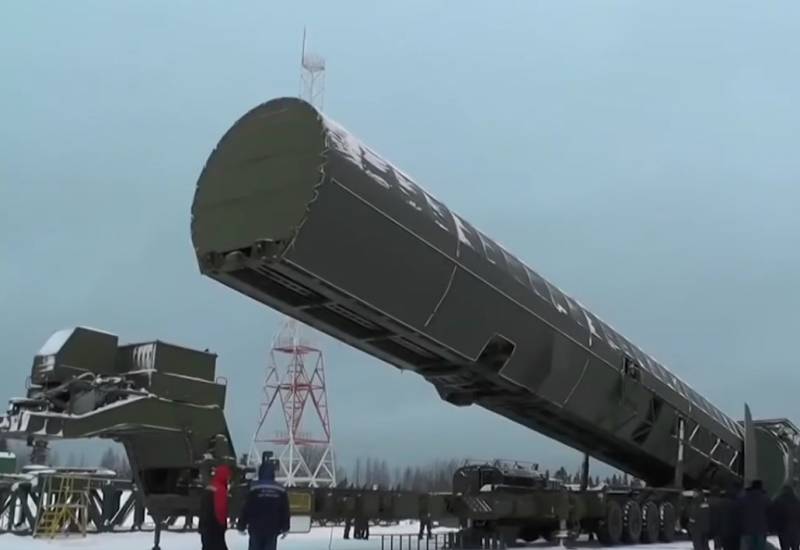 Russia understands the need to replace the existing ballistic missiles with more modern ones. While their development does not proceed quickly and smoothly, the transfer of this
weapons
the military will give the Russian Federation a tangible advantage over the United States.
This is how the American expert Caleb Larson argues in an article published by the American edition of the National Interest.
Today, the most "long-range" ballistic missile in service with the Russian army is considered to be the Soviet RS-36M Voevoda, or according to NATO's classification SS-18 "Satan". "Voevoda" is a silo-based ICBM with a nuclear warhead, with a range of about 10 thousand kilometers. This powerful weapon is already obsolete and needs to be replaced.
Instead of it, they are going to adopt "Sarmat". The exact performance characteristics of this intercontinental ballistic missile are not publicly available, according to Larsen. But, perhaps, the range of the new missile will be greater than that of "Satan". The Sarmat is capable of carrying not only a universal nuclear warhead, but also 10 large warheads or 16 smaller ones. In addition, the missile can be used as a delivery vehicle for guided hypersonic warheads (UBB) capable of maneuvering. They are still under development.
The creation of "Sarmat" began in the 2000s, and by 2015 the first prototype was assembled. During the tests, a number of technical problems were discovered, due to which the date of putting the rocket into operation was postponed several times. That is why the American expert writes that work on "Sarmat" takes decades.
Initially, it was expected that the "Sarmat" will go into service in 2018. Now the deadline is 2021, but it is possible that it will be postponed again.
Perhaps the developers believe that the rush in transferring such a serious weapon to the troops is inappropriate. It is better to eliminate all the shortcomings now and save the Russian military from future possible problems than to rush into commissioning the missile.